Sweet & Salty Dessert Recipe: Pretzel Crust Chocolate-Topped Peanut Butter Pie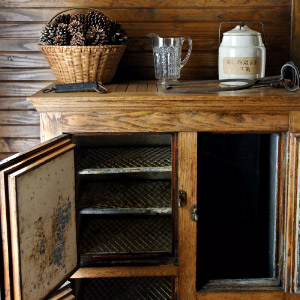 Dusty Old Thing
Peanut butter is one of life's greatest pleasures, but peanut butter and chocolate is truly out of this world. Not to toot our own horn, but we've really outdone ourselves this time, adding a pretzel crust to really round off the delicious taste of this dessert!
Not only is this a winning treat, but it's also not at all difficult to make! The crust comes together super quickly and packs a flavorful punch, the filling is easy-peasy and you don't need to put it on the stove or in the oven, and all you have to do to finish things off is pop the chocolate in the microwave! Does it get any better? If you've got a sweet tooth likes ours, or if you just appreciate something sweet every once in a while, this is not a dessert to be missed, it's amazing!
Chocolate Peanut Butter Pie
Serves 8-10
Ingredients
Crust:
2 cups pretzel sticks, coarsely ground
1/4 cup brown sugar
1 1/2 stick (3/4 cup) unsalted butter, melted
Filling:
1 (8 oz.) package cream cheese, room temperature
1 cup creamy peanut butter
1 cup powdered sugar
1 cup heavy cream (or store-bought whipped cream)
1 teaspoon vanilla extract
1/4 teaspoon kosher salt
Topping:
1/2 cup semisweet chocolate chips
1/2 cup heavy cream
Directions
Preheat oven to 350º F.
Pulse ground pretzels with melted butter and brown sugar until combined. Then transfer them to a 9-inch pie dish.
Use your fingers to press the pretzel crust firmly into the bottom and sides of the dish.
Place pie dish in oven and bake for 10-12 minutes, or until light brown. Let cool completely before filling.
In a large bowl or mixer, beat your peanut butter and cream cheese together until smooth.
Pour in the sugar, salt and vanilla extract and beat to combine.
In a separate bowl, beat heavy cream until stiff peaks form.
Fold in 1/4 cup whipped cream into peanut butter mixture, then gradually fold in remaining whipped cream.
Take a rubber spatula and smooth the whipped peanut butter mixture into your cooled pretzel crust.
Cover with plastic wrap and refrigerate.
Place chocolate chips and heavy cream in a glass, microwavable bowl. Microwave for 20-second intervals, stirring in between, until chocolate is completely melted and mixture is smooth.
Let cool and spread over peanut butter pie, then refrigerate at least 15 minutes before serving.
Recipe adapted from Food And Wine
SKM: below-content placeholder
Whizzco for DOT