I get such a warm feeling every time I hear this tune.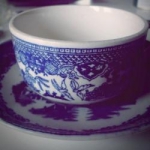 Rose Heichelbech
Bobby Helms was an up-and-coming country star in 1957 when he released a crossover hit that still makes our hearts melt to this day. "My Special Angel" was originally sung by Jimmy Duncan also in 1957. But, Bobby Helms' version is the one we remember the best. What fond memories we have of this beautiful song! The lyrics perfectly sum up how it feels to be in love.
This very special tune remains one of the classics of the era. The emotion in Helms' voice, the beautiful backing vocals, and sweet sentiment make this one of the most romantic songs we've ever heard, even to this day! It's no wonder that even though there have been many other versions recorded, Helms' is still the gold standard. Have a listen below to one of the best songs from the '50s! And, you can check out another sweet love song right here.