Comfort Food Classic: Chicken Pot Pie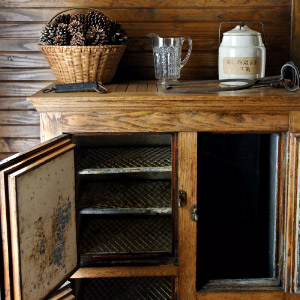 Dusty Old Thing
In need of some comfort food? Nothing quite hits the spot like the re-visiting some of our favorite childhood dishes. A classic dish in our family is chicken pot pie. It's a great buttery pie crust filled with gravy, vegetables, and of course chicken.
You can make individual servings if you have 16-ounce ramekins, or make a nice, big family serving in a casserole dish. It's also a great way to make use of leftovers. Not sure what to do with the rest of your baked chicken, or your vegetables? Make a pot pie! You can use many different vegetables in the filling, though my winning combination is onion, carrot, potato, and peas. A homemade pie crust ties this recipe together, but to be perfectly honest, using a store-bought crust works just as well and few will notice. Scroll down below for the recipe…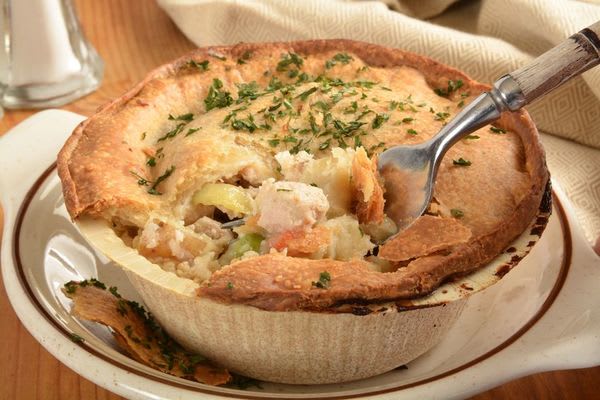 Chicken Pot Pie
(makes 12 servings)
Ingredients
4 tablespoons butter
1/2 cup diced onion
1/2 cup sliced carrot
1/2 cup peas
3 cups shredded cooked chicken (turkey works as well for a post-Thanksgiving meal)
1/4 cup flour
3 cups chicken broth
A splash of white wine
1/4 teaspoon Turmeric
Salt and pepper to taste
Chopped fresh thyme to taste
1/4 cup heavy cream
2 whole unbaked pie crusts
1 whole egg
2 tablespoons water
Optional: parsley for garnish
Directions
Preheat the oven to 375F
Melt the butter in a large pot over medium-high heat, then add onion and carrots. Cook until onions start to turn translucent, stirring frequently
Stir in the chicken and peas, and sprinkle flour over. Stir until well combined with the vegetables. cook for 1 minute.
Add the chicken broth and wine, and stir around to allow to thicken.
Once the mixture starts to thicken, add turmeric, salt, pepper, and thyme.
Add cream, then stir and allow the mixture to bubble and thicken (about 3 minutes).
Line a baking dish (2-quarts or so for family serving) with a pie crust, then pour in the filling. Roll out the second pie crust on top of the dish.
Press the edges of the dough together to seal, and use a knife or a fork to cut vents into the top of the pie.
Mix together the egg and water, then brush over the surface.
Place the pot pie on a rimmed baking sheet and lightly cover the crust with foil. Bake for 15 minutes, then remove the foil. Bake for another 15 minutes, or until the crust is a golden brown.
Garnish if desired. Serve hot.
Enjoy!
Recipe adapted from The Pioneer Woman