One of the more unique periods in American History is the Great Westward Migration.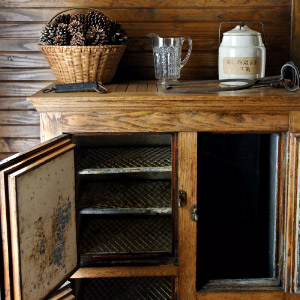 Dusty Old Thing
One of the more unique periods in American History is the Great Westward Migration. From 1840-1860, hundreds of thousands of entrepreneurs and families moved west either seeking trade with Mexico, farmland or gold in California, or a new homestead in Oregon. It was the largest voluntary overland migration of people in history, egged on not only by the lure of the West, but by a journalist who declared it was American's "manifest destiny" to expand to the edge of the continent.

This photo from around 1900 in Oklahoma shows a modernized version of what the Pioneers used. These wagons were used primarily to transport goods to market.
The pioneers took one of three trails — the Sante Fe Trail, the California Trail, or the Oregon Trail — and they traveled in large Covered Wagons. These wagons carried not only everything the families needed to survive the grueling, months-long, 2,000-mile journey, but also as much as they could carry to help them set up their new home. They thus needed to carry food, clothing, a full set of tools and cookware, bedding, weapons, and spare wheels and canvas to address the inevitable breakdowns along the way.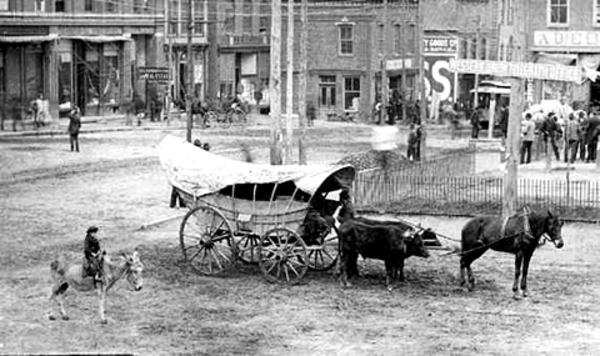 A view of a Conestoga Wagon, which was a precursor to the Pioneer Wagon, which was typically a simple farm wagon outfitted with canvas covers.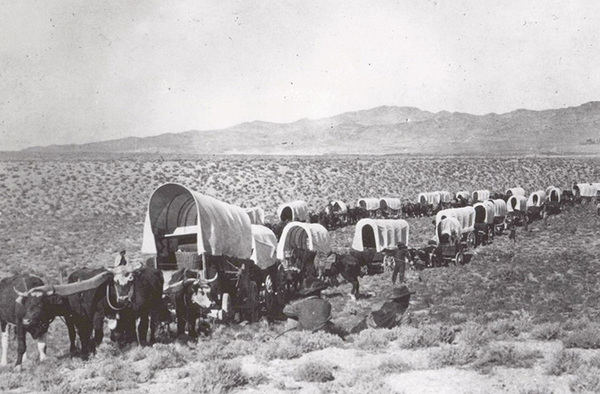 A view of a team of Pioneers on the Oregon Trail. You can tell this was relatively early in their trip – the canvases aren't yet dark and tattered.
This photo is a great illustration of why the journey took so long: when people traveled together, they had to stop every time there was a breakdown, which happened often. One other interesting fact: Many people who started out for the Oregon Trail changed their minds and turned for the California Trail after hearing over-stated stories of gold riches in California. Many of them later moved north to Oregon.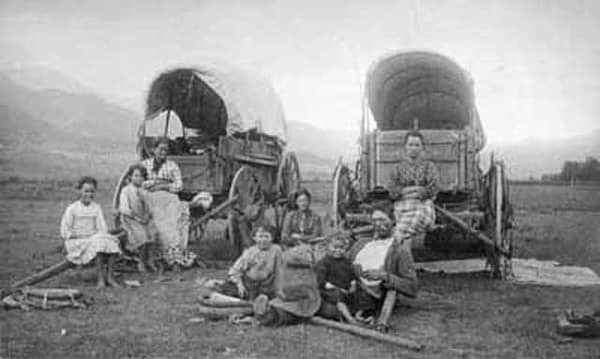 Here is a family in Missouri (credit: State Historical Society, Columbia) stopping before heading farther West. The city of Independence, Missouri served as a starting point for both the Oregon and California trails, and the city boomed primarily around the business of outfitting Pioneers with everything they needed. You'll notice that with these smaller wagons, there wasn't much room, but they all managed to fit when weather hit. On fair-weather nights, the women typically slept in the wagons and the men either underneath the wagons or around a fire.
Let's take a closer look inside…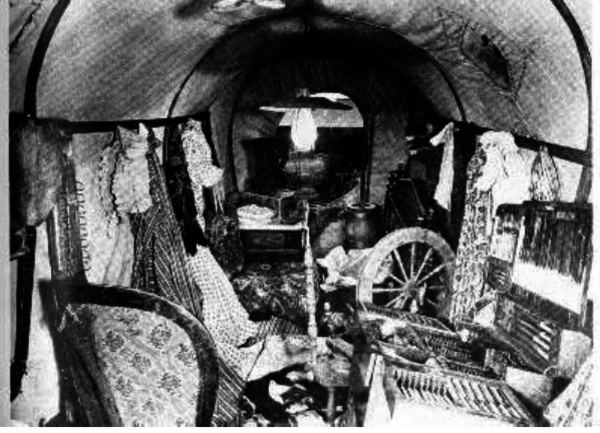 As you can see – not much room for comfort! This particular family seems to be a bit better off than most, however; they had a nice chair, oil lamp, lots of clothing, and even a spinning wheel. Rumor has it most of the spinning wheels and big chairs got thrown out along the way! Would love to know the full story behind this family. Let's hope they made their way to Oregon and lived long, prosperous lives on their new land.