Talk about an old-fashioned vehicle!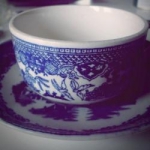 Rose Heichelbech
The recent snowfall has hit many parts of the U.S. with cold conditions, blustery wind, heavy snow, and even ice. Getting around in all that can be a tough task, but when you have to go out you just have to be careful. But, near Farmington, Maine, people were astounded when they saw something straight out of the 1800s in their hometown: a horse-drawn sleigh in the snow!
Multiple people reported seeing this spotted grey horse pulling a couple through the drive-thru at the Farmington McDonald's. When you get a craving you just have to indulge, right? The couple in the sleigh, Charlene and Michael Cushing, have a cute story to boot! Michael had gotten the sleigh for Charlene as a gift and has restored the antique sleigh himself as a tribute to his lovely wife! The horse's name is name Air Force Grad and the Cushings report that he's one of the most easy and level-headed horses they've ever worked with. That must make him really well suited for traveling in the snow!
The snowfall may not have made in it time for the 2018 holiday season, but it's still quite picturesque to see a horse drawn sleigh in the snow. Have a look at this nostalgic scene in the video below.