Can You Help Identify These Antiques: September 25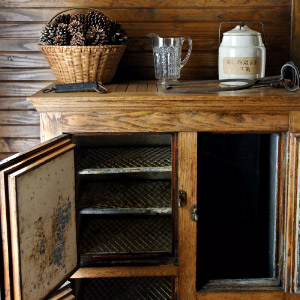 Dusty Old Thing
One of the very nice things about social media like our Dusty Old Thing Facebook pageis that everyone can comment. We can share experience, knowledge and, yes, pure guesses when others ask "What is it?" or "Can you help identify?" or "How was this used?" Our followers sometimes include experts in various areas of antique collecting and that is always appreciated. But even more we all enjoy the free and easy exchange that is built in a virtual community.
So, on mornings like this one, we ask for your input. We've selected a few recent posts from our readers who've asked the community for help in identifying an object. We all know, of course, that real identification of most antiques takes in-person examination to look for details of construction and for markings that may be difficult for a novice to see. But we can enjoy saying "It looks like it could be…" or "It might date from the…" or "My Grandmother had one she used for…" But, most importantly, we can have fun and gain insights from others.
"Thislot contains a complete set of wooden blocks made sometime around 1915 and several other items. The large doll still has her arm tag that reads"I am Sophie from Poland". I would love to gather more information on the 2 dolls if there are any collectors that can help." — Trey Stubbs
So, readers, can you help Trey identify "Sophie" and the other doll? Can you help date them? What identifying marks should Trey look for on the dolls to help with the identification?
"I am trying to find out if anyone out there can tell me about how old thisclock is. We got it from our parents estate and my dad had said it belonged to his grandfather. It has paperwork, but unable to read. It isat my sister's house but i dont think there was anything on the clock itself. A lady whose father used to repair clocks told her it may date to early 1800's. Any ideas? Thanks for any help." — Charlotte Jones
Can any of our readers who collect or just love antique clocks give more information to Charlotte? Are there online resources you like that provide basic information on how to date clocks based on characteristics of their movements? What books on antique clock collecting are your favorites?
"Anyone know anything about this metal kitchen cupboard?" — Kj Nelson
A photo of the cabinet closed is below. One of our readers, Sharon, traced the name "Pure Food Kitchenette" to a 1915 newspaper ad. Does anyone know the manufacturer? What do you think the appeal of a total metal storage unit was at that time in history? Has anyone else seen one before?
Thanks to everyone who likes to talk about Dusty Old Things. We learn so much from each other. Understanding antiques is a part of understanding our history.