You certainly won't find anything like this being made today.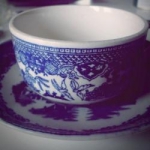 Rose Heichelbech
This bronze cigarette box was appraised on Antiques Roadshow and is a relic from another era as no one uses these kinds of things anymore. Back in the old days you might keep a box full of cigarettes out for guests as a courtesy so that no one ever had to ask for a smoke. This small bronze cigarette box dates from at least the 1930s but has one special element that makes it worth a lot more than its contemporary counterparts: a white jade topper.
For this reason the appraiser, Robert Waterhouse, informs the owner this tiny box that at auction the buyer for this item would almost certainly be Chinese and they would be buying it exclusively for the jade it contains. What's more: he loves the ash, smoke, and dirt that's become embedded on the carving! Find out how much this cigarette box is worth in the video below.