Talk about a thrift store find!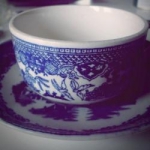 Rose Heichelbech
Julie and Michael Lisi were living in Ohio with their three children when their son won a baseball game (but sadly lost his baseball mitt) in 1978. The couple, now retired and living part of the year in Florida, regularly shop at Goodwill for senior discount day.
One day while perusing the aisles Julie's went weak in the knees as she spotted a relic from the family's past just lying on a lower shelf, and of course she had to buy it (for a whopping $1.49). The leather baseball mitt, with her son's name on it in his own writing in marker, gave her and her family quite the shock.
40 years and 1,000 miles later, the family now have his mitt again. This heartwarming story proves that you never know what you'll find at the thrift store! This is a one in a million find which has turned out to be priceless to the Lisi family. Watch the video below for more on the Lisi's unique story.