They truly don't make 'em like this anymore!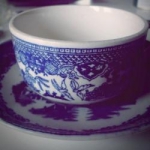 Rose Heichelbech
Campers and RVs in the 1950s had some really interesting designs with some very sleek details. Trailers from the era hold some very dear memories for many, like hot dogs on the grill and summertime lived nearly exclusively in bathing suits or shorts. But, very few trailers or campers from the time had two levels!
We've all seen the double decker luxury RVs that stared popping up the 1980s, but something like this was quite the novelty back when the film below was made. From the sun deck to the swanky built-in furniture this camper seems like it would have been a dream to vacation in. We love the functional kitchen and the striped awnings, too! But, the narrator tells us that this fully insulated camper could also serve well as a permanent home. Have a look at the 1951 British Pathé newsreel below.