Some of these are true classics!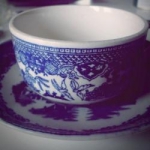 Rose Heichelbech
We've come a long way in skincare since the 1950s, with more options than ever on the market. Every kind of cream, cleanser, toner, and tool is now available at varying price points. But, flash back to the 1950s and there were a limited number of beauty aides and daily routines were often fairly similar from woman to woman. Even so, this was a huge step up from Edwardian beauty routines which used homemade formulations and pseudoscience to mixed results.
Looking back on how skincare used to be, a group of young women over at Ladylike decided to give some beauty routines of the 1950s a try. While some are fearful of the heavy Pond's cold cream (which it seems a few of them have used before), many are pleased by the calming routines and minimal waste of a 1950s beauty regimen. Most of these young ladies seem fairly pampered by the regimen our mothers and grandmothers would have used every day. The one exception is using hot water on their faces, which runs counter to much of the beauty advice we get these days and can be quite uncomfortable if you're not used to it.
These young women are using the bar soap that Jackie Kennedy used and are steaming their faces as per Audrey Hepburn. It doesn't get more classic than that! Have a look in the video below.