Yes, We Can Set Trends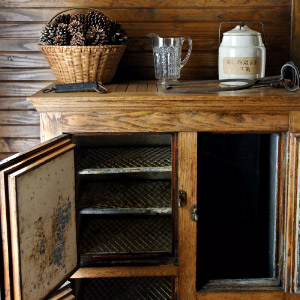 Dusty Old Thing
Some of the advertising for the classic movie American Graffiti asks "Where were you in the summer of '62?" It's a fair bet that the girls in that movie would have spent some time sitting in a chair like the pink one here in Monica Taylor's screened-in porch. Yes, it's a chair from a hair salon, also known in those days as "the beauty parlor"…or, in our family…the "hair doctor".
Yes, there really were those space-age-looking helmet contraptions that came down and blew really hot air to dry your rolled up or pinned up curls. And, yes, the pillow Monica has it in is perfect for the late 50's and early 60's.
Notice, too, the vintage glider. Monica writes that it was a curbside find! The cushions on it look to be that kind of durable vinyl popular then. We love how Monica has broken the rules and is mixing pink and assorted reds. It's a fun room! Thank you, Monica, for helping us realize that when it comes to decorating with antique and vintage items, we can set our own trends!