The creativity expressed during tough times is astounding.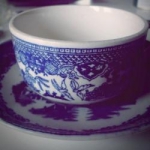 Rose Heichelbech
It's not everyday that the soldiers who fought in World War II share their stories. Too often, the men in our lives who did fight had nearly nothing to say about it: it was too horrible for words and most servicemen wanted to the protect their families from the evils they witnessed in Europe.
Letters home would have also been scarce in details for reasons of state secrecy, but would have instead given a general sense of soldier's mood, perhaps what he missed most about home. In a rare collection of hand-illustrated postcards by GI Charles Overstreet sent to his friend back home in 1945 we get to see another side of what the war was like: lonely.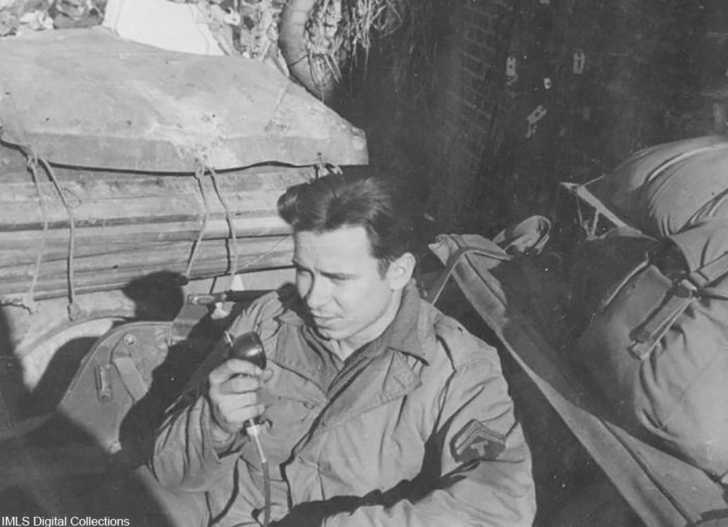 Overstreet was a photographer and artist serving in serving during World War II. The gruesome images he captured of the Gardelegen Massacre are hard to look at. This 1945 horror, in which 1,000 prisoners were locked inside a barn which was then set alight by the Nazis, was committed in order to hide their crimes. But, Allied Forces caught them in act of burying the bodies.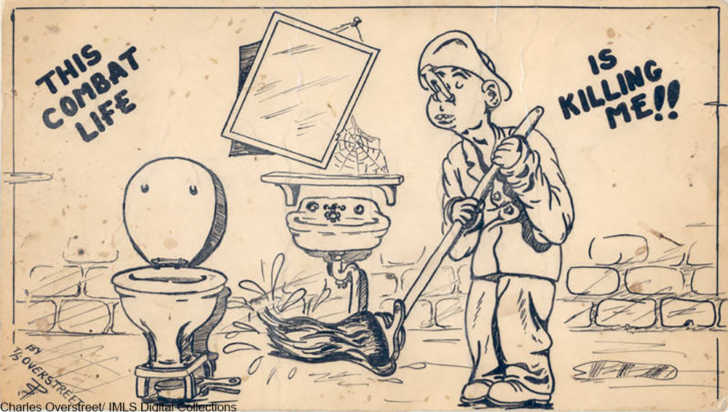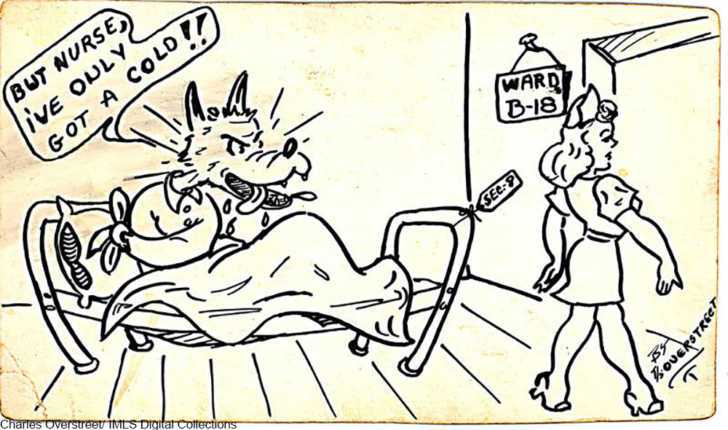 Contrast that scene to the image of a bored soldier whistling at the same girl over and over, the infamous wolf character. There's nothing of death in these images, but it speaks volumes about loneliness. All of the cartoons are signed with his name, and some are also signed "F. ABN." for Field Artillery Battalion.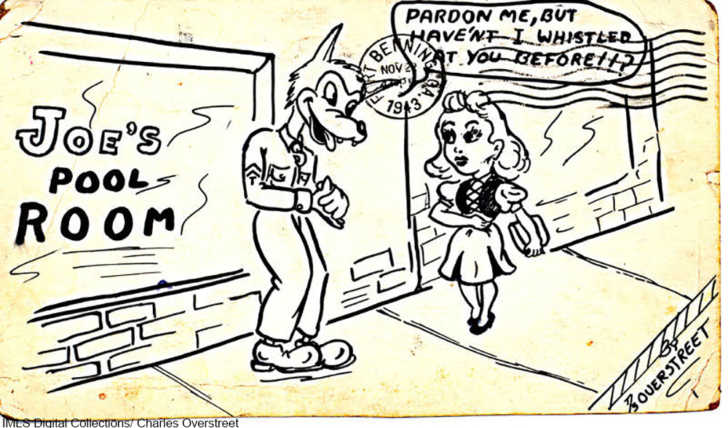 Overstreet drew these postcards because he found writing letters to be somewhat difficult and he expressed himself better with drawings. The postcards were sent to his friend, Curley Belt, back in his home state of Illinois. Many of these cartoons would not be considered politically correct these days as they highlight the "wolf whistle" as well as some risky behavior by the soldiers in the scenes.
However, the drawings were one young GI's way of dealing with the stressors that come with training for and fighting in a war. And he was not above poking fun at his own troop: the 252nd Field Artillery Battalion. Corporal Overstreet was radio technician and photographer for his battalion.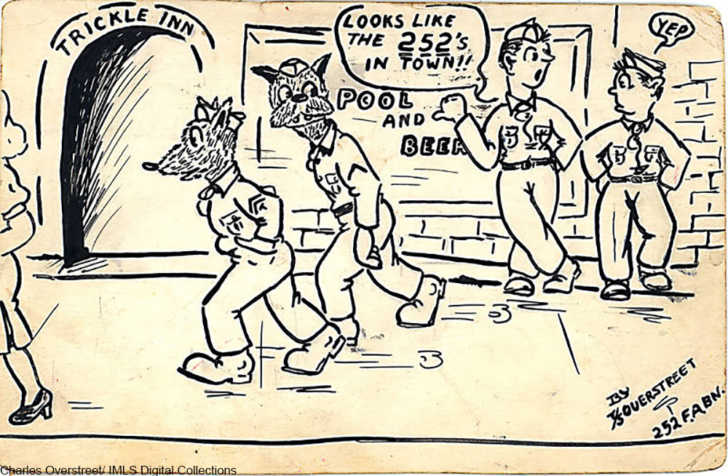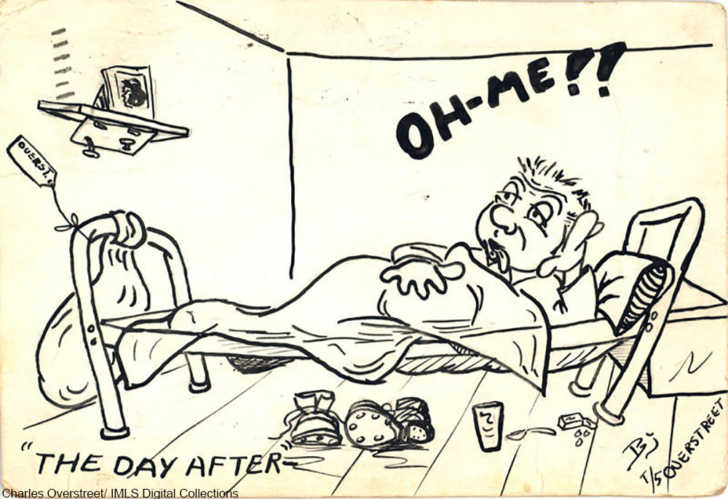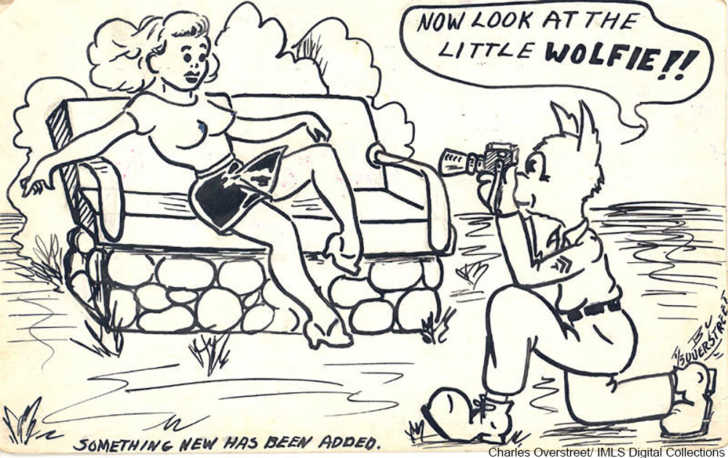 Overstreet likely sent these on postcards on various leaves to the U.S., as mail abroad was not reliable. When he was in Europe, Overstreet was among the many to help liberate the victims of the Holocaust. Overstreet also collected German propaganda leaflets and postcards, which he later said was most helpful on trips to the bathroom where they were used as toilet paper.
In his later years, Overstreet went on to give lectures to school children on why the war was so devastating and the evils of the Nazi regime.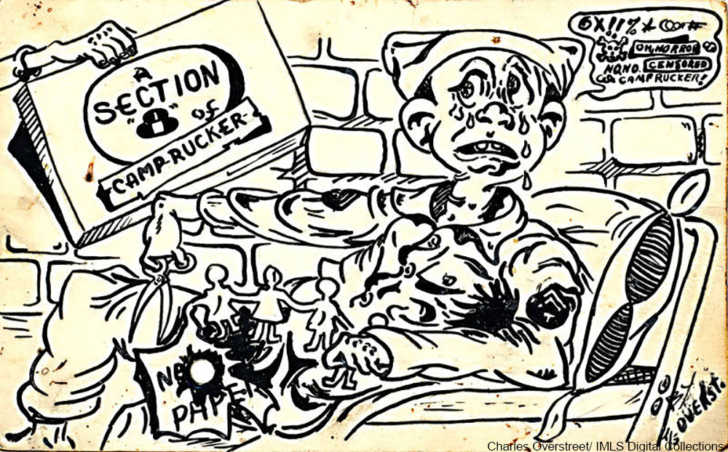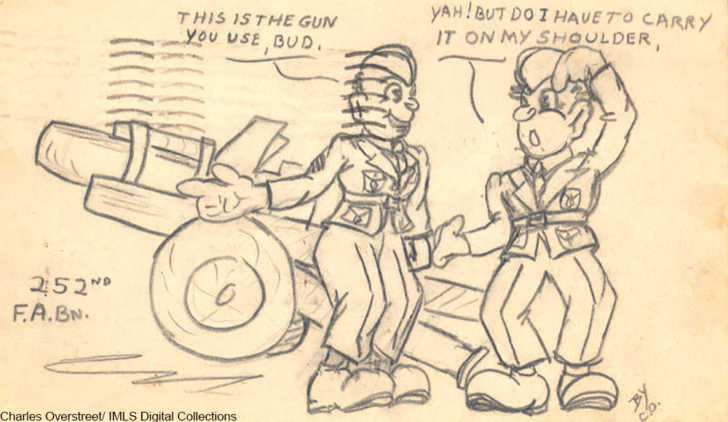 The 252nd was one of the 105mm howitzer battalions and that is most likely the gun depicted above.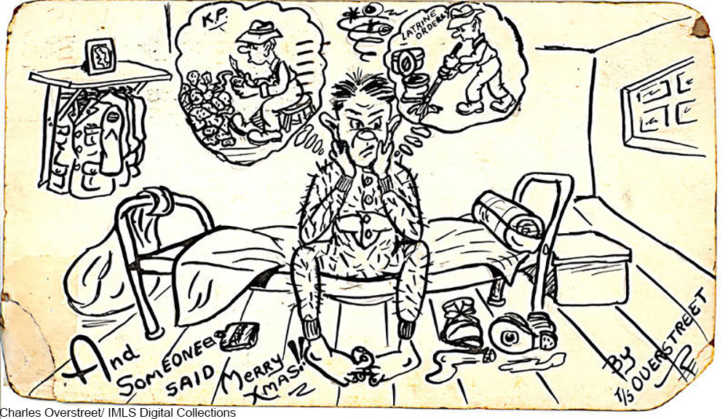 This last image wasn't a post card, but rather a simple illustration of the realities of war. During his tour of duty Overstreet fought in France, Germany, and Holland (depicted in the scene below).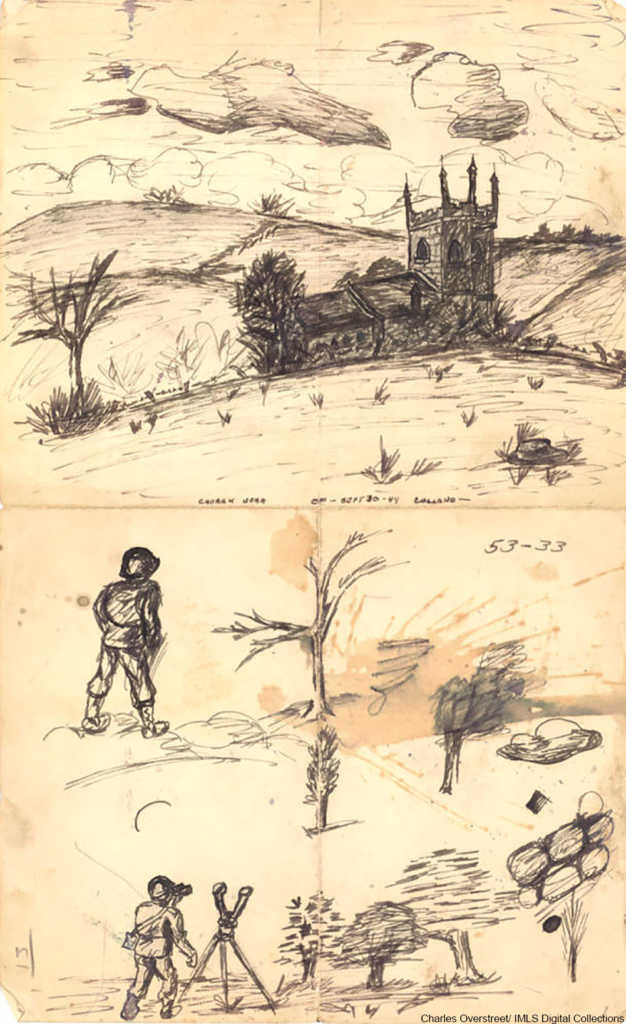 Some of these same sentiments, like the drudgery having to peel potatoes, was expressed in later comic strips like Beetle Bailey (1950) and really resonated with soldiers who had recently fought in WWII. It's rare to see drawings like these survive into the modern era. They certainly do give some more perspective on what it was like for American soldiers fighting in World War II.