It wasn't done quite how you might have thought!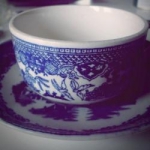 Rose Heichelbech
Have you ever wondered how the delicate figures on vintage Wedgwood pottery were made? If you're like us, you probably assumed that they were made in a mold at the same time that the base piece was made. While some of the pieces were made with molds, this fun 1958 video from Pathé shows the painstaking process behind the delicate designs, which are actually a form of appliqué.
The work of the skilled artisans employed by the historic Wedgwood company is clearly explained in the video below. From the straw that the dishes were packed in to the cathartic disposal of the imperfect pieces, this peek into the the inner workings of the production and shipping is just amazing. For anyone who collects Wedgwood this is a must-see clip. Even those who don't collect it will enjoy this snapshot of what commercial production looked like back in the 1950s. Have a look in the great video below. And, if you love this then check out these globe-makers from 1955 doing it all by hand!