Their beauty is enduring.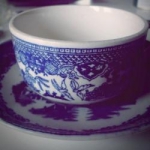 Rose Heichelbech
In the Victorian era a frilly edge treatment for glass became popular, now referred to as ruffled glass. At the end of the 19th century glass makers like Loetz and Louis Comfort Tiffany were creating beautiful hand-crafted glassware that used the now-iconic ruffle style of edge treatment. Later companies cashed in on this high-end look by either creating molded glass pieces then adding hand-finished details or by replicating this ruffled look in molds, thereby eliminating the need for slow, handmade effects. From high-end to common, here is a look at collectible ruffled glass.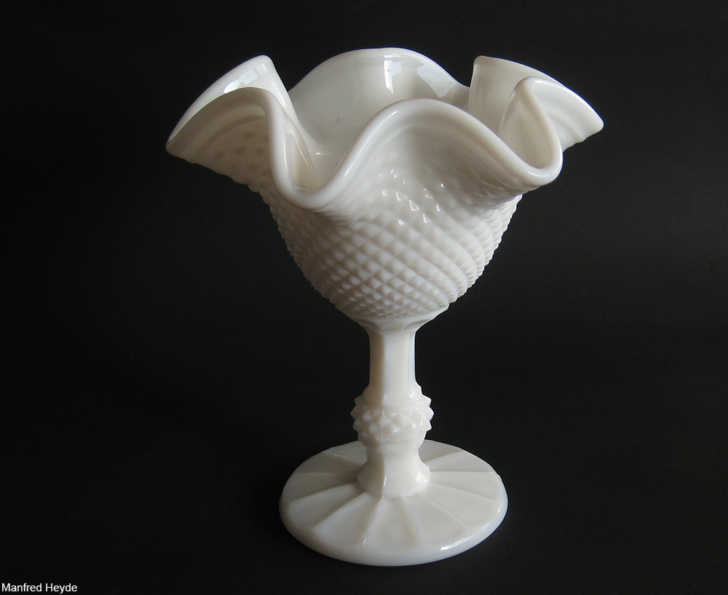 The ruffles on the edges of vases, lamp shades, candy dishes, parfait cups, salt cellars, and compote dishes was extremely popular for the better part of a century between the 1860s and 1950, with popularity waning somewhat in the 1960s as tastes trended toward modern looks. However, even the ultra-modern Italian glassmaker, Blenko, used ruffled edging on some of their 1960s pieces. That's how popular it once was.
The biggest and most well-known maker of ruffled glass by far was Fenton. Their designs came in a huge range of colors and sometimes incorporated hobnail, square, and diamond patterns in the glass. These were highly decorative pieces meant to be the center of attention at the table or on the mantlepiece.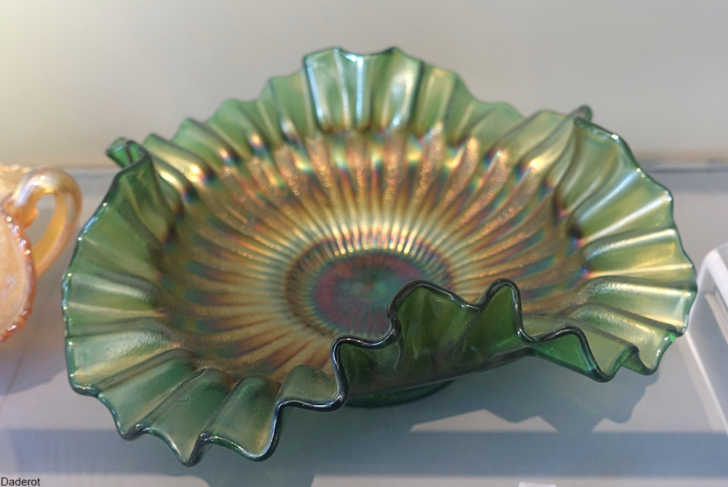 Carnival glass is another stye that often used the ruffle edge effect. Makers would crank out the glass using molds and then as the pieces were coming out of the molds the edges could be manipulated when still hot. By using iridescent glass, a patterned mold, and the hand-finishing technique of ruffles they could achieve a high-dollar look for a low price. It's no wonder they were so popular in homes!
This technique explains why some pieces have clear mold lines, yet also have the irregular handmade look at the edges. This practice was done at the turn of the 20th century, but continued well into the 1930s.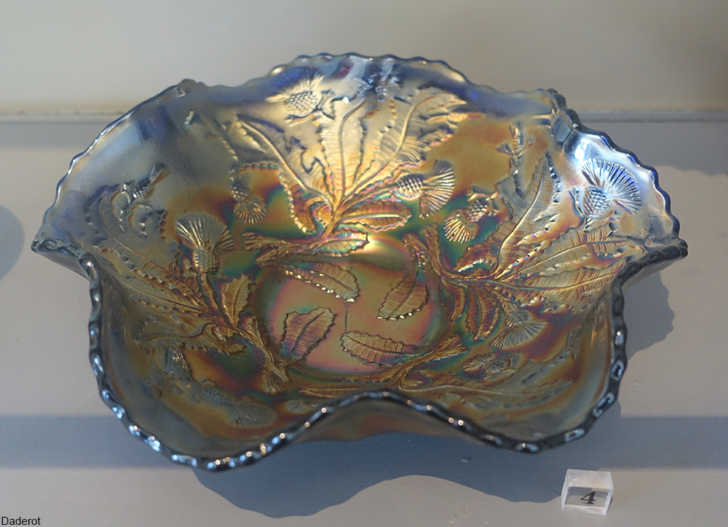 One of the most common ruffled glass styles is the bride's bowl or bride's basket. This type of glass was a popular wedding gift to the bride in the Victorian era, long before couples could register at department stores. The delicate glass bowls were set in silver bases with silver handles, thereby conforming to the tradition of giving a bride silver upon her marriage. These objects could also be used during the wedding as well, sometimes carrying the flower petals strewn by the flower girl and sometimes displaying the bride's bouquet during the reception or luncheon that followed the ceremony.
Some of these Victorian ruffled bride baskets were also hand-painted with scenes of cherubs, flowers, or other symbols of love. The larger banquet table sized double bride basket is now extremely collectible. One sold at auction in 2014 for $16,520.
Later versions of the bride bowl were all glass as this was far cheaper since they were lacking the sterling silver bases and handles. This is the more common style that's found in most antique shops today.
Buying ruffled glass today can be very cheap or very expensive, depending on your tastes. Early Fenton pieces in this style can sell for nearly $1,000 depending on the pattern and color, though there still are deals to be had in this area. Handblown glass, especially that is very old or from well known makers (like Tiffany) can cost thousands of dollars. However, even small pieces of Tiffany ruffled glass can be found at more modest prices depending on the size and color.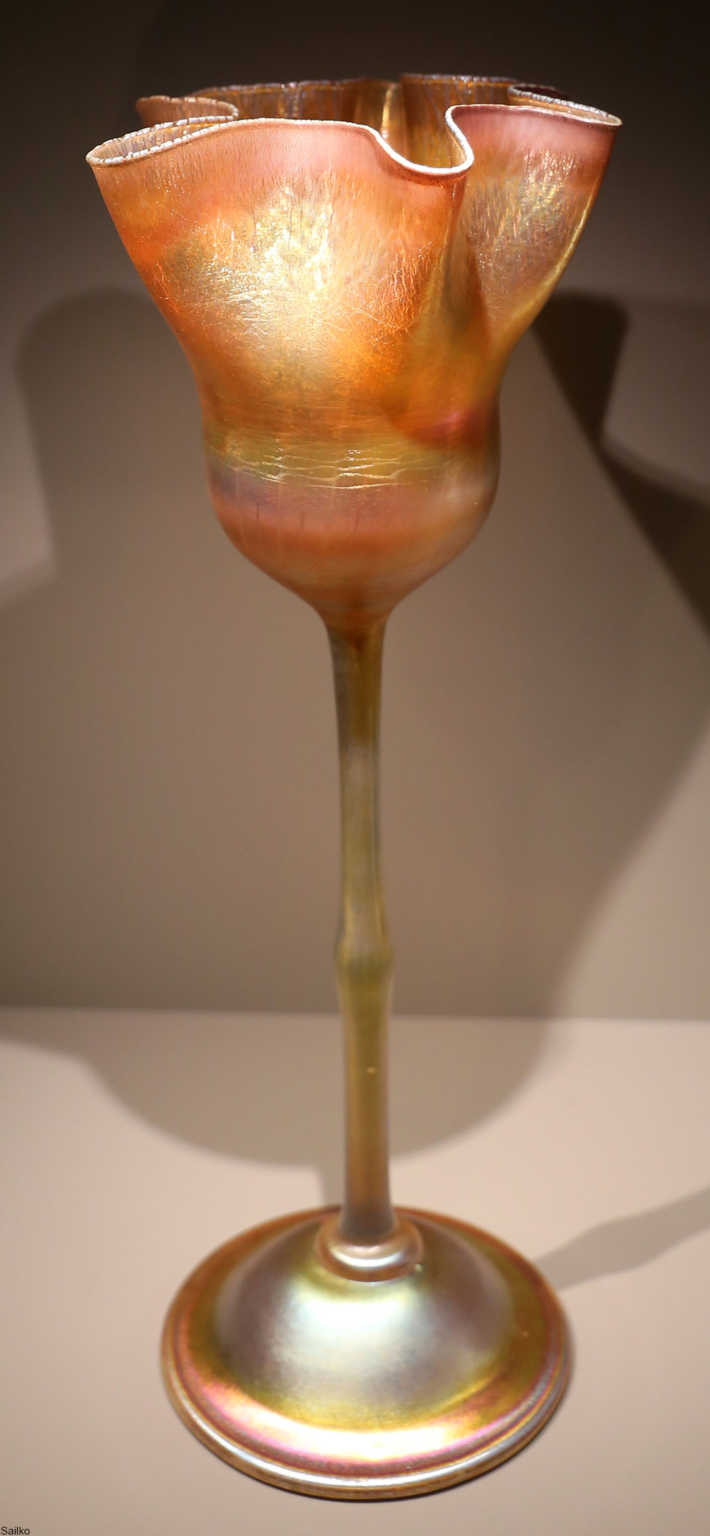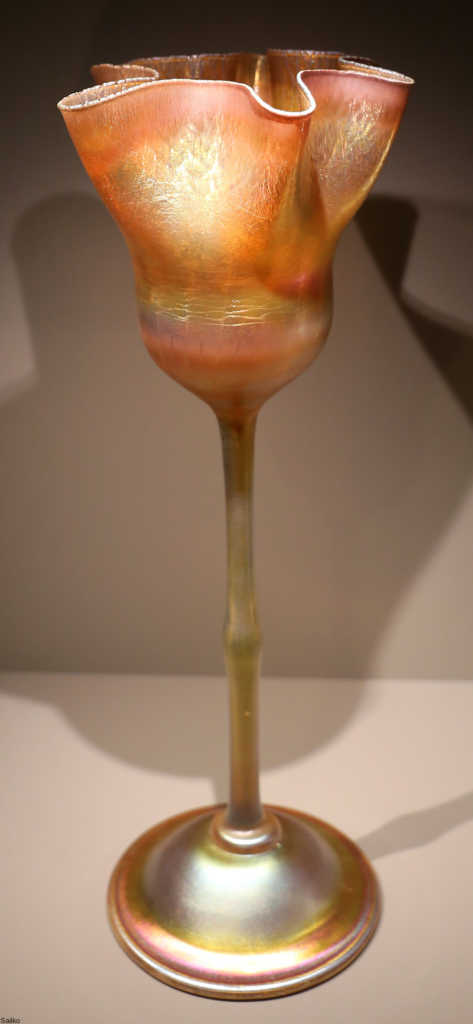 More affordable options can be had for only a few bucksand those pieces will be molded, often with little or no color variation within the piece. The mid-range are some of the iridescent color-shifting pieces, as well as glassware like opal glass and vaseline glass.
The enduring beauty of the ruffled edge has made this style a staple in home for well over a century. We can imagine this style of glassware being collectible for many, many years to come.