Vintage Kitchen: April 9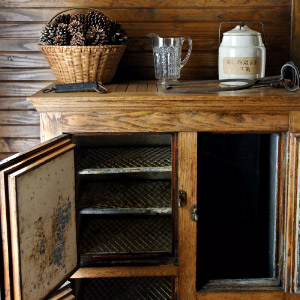 Dusty Old Thing
We always love the display of an antique in an unusual way. There's so much beauty in an individual piece. And who says that a scale in great condition isn't a conversation piece? We'd like to thank Rae Chamberlain for posting her's. It was made by the Standard Computing Scale Company in Detroit and is still accurate. The company, according to the information we could find, was founded in 1889. We're not sure how long they were in business. Does anyone know? One source we found listed patents through the 1930's but said they produced scales still in the 1950's.
It's always nice to have an open shelf in a vintage kitchen with things on it that make you smile. We'd like to thank Monica Taylor for sharing this photo with our Facebook antiques community. Just love that pitcher and the cats and dogs.
While Dusty doesn't generally go for "re-purposing", we really love this one! Some of the neatest kitchen islands we've seen have come from dressers that weren't good quality period pieces and that wouldn't be hurt by a little imagination. This one, holding a cooktop, is just "happy" and very practical. We love the red highlighting on it. It was posted by Jenn Hess who says that the top drawer holds utensils, the middle one holds serving dishes and platters and the bottom gets the pots and pans. It is lovely and practical. Thanks Jenn for your post and good ideas. One word of caution, however, to those who are thinking about doing this: make sure that the dresser or chest is not a valuable antique. Check out those construction details!
Sheryl Almaguerbought this vintage stove at a yard sale for just $50. Yes, $50. It is small, but that is part of the charm. You can imagine it in an aparement or flat in days gone by. That black and white also is elegant. The moral of the story is never underestimate a yard sale!
Wanda Mixellshared with us a very interesting photo. They are in the process of restoring their farmhouse kitchen. Most of the objects on the wall are slaw boards. Most they retrieved from the basement. They had been, as Wanda writes, "most lovingly used" by her husband's Grandmother. Others were purchased. It's a great collection and we hope to see more of the kitchen later on!
We'd like to end tonight with Kathleen Pendergast's collection of Jadite in the Jane Ray pattern. Kathleen collected the pieces in the 1970's before it was "in vogue". It was part of her family's hobby. Martha Stewart helped fuel a resurgence in the popularity of Jadeite. Today a person who is really interested in it has to learn how to recognize the original pieces from reproductions. We can all say "bravo" to Kathleen for building her collection before it became a trend.