Vintage Kitchen: April 29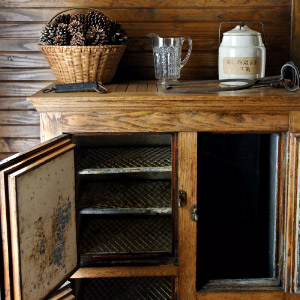 Dusty Old Thing
Peggy posted this photo of some of the things she purchased from the estate of her grandparents. They are some of the classic items of a vintage kitchen.
Tin canister sets, like these shown by Waynita, became all the rage in households between the two world wars. They kept out critters and helped keep in freshness. Pure kitchen vintage.
Cheryl posted a 1939 cook book and calendar and jadite from the 1930-39 period.
Early electric mixers for the home trace their history back to about 1919 when the Hobart Manufacturing Company, now called Kitchen Aid, adapted an earlier professional mixer for bakers into a home "food preparer". In 1930, Sunbeam introduced its MixMaster, undercutting Kitchen Aid's price.
Although electric coffee percolators were in use after World War I, fairly elaborate ones became popular for entertaining after WWII. Some, like this one, were made to look like urns.
Sharon's is interesting because of the fleur-de-lis decoration that does look a bit like the scouting symbol. We're not sure of the date on this one, but are guessing early 1950's. Has anyone seen one like it?
Jeff's napkin rings (they are actually birds) in front of his Fiesta collection show how vivid color came to challenge the reds and whites and the muted greens in vintage kitchens. Our readers have enjoyed commenting on these and most think they are bakelite and not made by Fiesta. What do you think?
In "the old days", wringer washers were frequently kept in a corner in the kitchen so they could be rolled over to the sink to attach the water lines and to make draining easier. Joni found this old Maytag for just $15. The wooden rods she has above the machine would have been something very practical in a vintage home.
Evawrites that this is a circa 1910 kitchen cupboard in it's original paint, cleaned up and used to store fabric. We can imagine that in days gone by it proudly stored dishes. Note that it sits right on the floor and not on legs.