Vintage Kitchen: April 2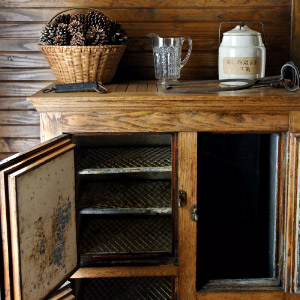 Dusty Old Thing
Art Deco design found its way into kitchen appliances we now call vintage. This is a 1932 Magic Chef stove posted by Don Ree. His grandmother cooked on it and it still works. The paint is original. Notice the pulls for the doors/drawers. It is a beauty!
This is Kelly Eberhard's 1935 Magic Chef. Dusty Old Thing has seen other vintage stoves with the same black/grey marble-look finish so believes that type of finish was original, giving it an urban, sophisticated look.
Sylvia Hensley's stove is a baby blue Copper Glad. She writes that they found it in pieces in an Iowa antiques shop about 20 years ago and hauled it back to Kentucky. As you can tell with the size and trim they were the elegant versions of wood stoves. We're not sure of the date on this one, probably mid-1920's. In 1928, Better Homes and Gardens touted the Copper Clad as the stove with everything and with an easy to clean exterior. Of course, all of us who love antiques also are immediately drawn to the cherry table and cupboard top to the right, the stoneware and salt glazed pottery. It's a beautiful kitchen.
Delores Harrison shared with us this page from a 1927 Sears catalog. She has a Hoosier in the same style and it is just so good to have advertising from the same period to see a piece in its original form and to see how it was promoted. Notice that it was lauded as "saving steps".
After WWI and several outbreaks of disease, including the Spanish flu, the mother in middle-class households may have been not only in charge of the kitchen but working herself in it for the first time. There were fewer servants. Womens' magazines and public health agencies highlighted the responsibility of the wife and mother for maintaining the health of her family. That meant sanitation, proper care with foods and economy. Kitchen design changed. Hoosiers, with that porcelain covered pull out work surface, replaced the old wooden center table in kitchen. The flour bin, the canisters and other components were mouse and bug proof. And it was very efficient.
Hoosiers waned in popularity with the advent of "modern" after WWII. Now they are, as we say in the antique world, "hot".
We really liked the simplicity of Stacey McCauley's photo with her glass cobalt rolling pin. Even rolling pins have a history.
While wooden rolling pins have a longer history, glass ones can date back to the 18th century. Glassmakers in England began making hollow rolling pins that had at least one opening fitted with a cork or metal cap. They were often given as gifts, filled with something useful like salt, especially at a time when salt was taxed. On theory, they could then be filled with cold water to aid in keeping the dough from being too sticky. The cobalt glass produced in Bristol, England, was always popular and was soon reproduced both in other English cities and in America from the 18th to early 20th century. Glass and ceramic rolling pins were, of course, valued as being more sanitary than wood after the general public finally learned about germs. Today they are "repros" that try to replicate the early 20th century designs, so a collector has to know how to identify vintage and antique glass.
We'd like to end…for right now…with Vicki Stevenson's refrigerator. Vicki simply says that it has run for 80 years and she still uses it. Notice the cabriole legs! We're not sure but it looks like a GE "monitor-top".
GE introduced its "monitor-top" for residential use in 1927. Over a million were sold at a price of about $300. Some utility companies allowed the purchaser to pay monthly through an add-on to the electric bill. Yes, that's the compressor on top. The units appealed because they were functional, hygenic and highly marketed. They did become a status symbol for the proper kitchen in the late 20's and as the country went into Depression.
We'd like to thank all our Dusty Old Thing followers who have posted photos and described their antiques and vintage finds! Keep them coming. We learn from each other.