The infectious beat has us moving!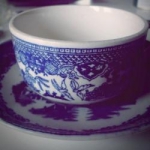 Rose Heichelbech
The Freddie was made popular by the band Freddie and the Dreamers in 1965 with "I'm Telling You Now" (1963, re-released in 1965) and "Do the Freddie" (1965). Both songs had an upbeat tempo, to which band frontman, Freddie Garrity, famously performed the Freddie on stage for adoring fans.
As one of the popular British invasion bands, the success of Freddie and the Dreamers was not only linked to bands like the Beatles and the Monkees, but soared because of this goofy dance. The marionette-like moves might seem a bit far-fetched today, but at the time the Freddie was only one of many eccentric dance crazes that were taking over the U.S. Listen to the band perform their hit "Im Telling You Now" on the hit TV show Shindig and see them do the Freddie to wild applause. Have a look in the video below.