If you love these two then you'll get shivers from this swoon-worthy performance.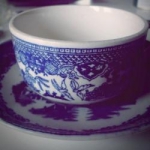 Rose Heichelbech
It's no secret that here at Dusty Old Thing we love Frank Sinatra. His smooth voice was the soundtrack to so many important moments in our lives. But, we also love Elvis Presley for his lively stage presence and incredible talent. These two very different performers both stole our hearts. But, what happens when you get the two on stage together? You're about to find out!
The two legends appeared together in tuxedos (what else would they wear?) on national TV for the Frank Sinatra Timex Showspecial- "Welcome Home Elvis." After serving in the Army for 2 years in West Germany, Elvis returned home to find he was absolutely as popular as before despite being out of the public eye. Old Blue Eyes and the King sing a medley of "Witchcraft" and "Love Me Tender" in a stage performance that sends the studio audience (mostly women from the sounds of things) into screams of excitement. Have a look for yourself below. And, be sure to check out a rare color clip of Old Blue Eyes in color performing with Count Basie right here!