Simple Elegance in a Pewter Wall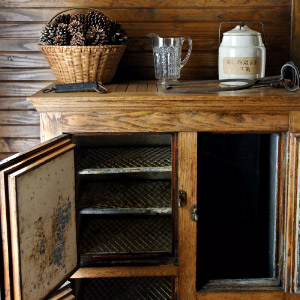 Dusty Old Thing
There is an immense simplicity of elegance in this photo from Jules Martino. He calls it their "Pewter Wall". While pewter was generally considered the average man's silver, it has a rich history dating back to the Middle Ages. It remained popular into the early 1800's when china/porcelain became fashionable and easily obtainable.
There are differing types of pewter based on the content of the alloys. Marks are generally called "touch marks" and may have included the maker's name, initials, or a play on the maker's name, and sometimes the date. Owner marks were also common. Pewter has had periods of revivals of interest in the US and in Britain so collectors have to be able to spot repros or just new versions. Fortunately there are books and other resources to help.
Jules writes that the spoons in their collection have the owners/users initials stamped on them and some of the plates also are marked with initials and dates. What we love about his photo is the unity of design and simplicity. The hanging corner cupboard fits perfectly the period of a late 18th or early 19th century room. The stand for vintage linens keeps the neutral color theme, making the wood stand out. The pewter reflects the light. It's all simple and very beautiful. Thanks, Jules, for sharing it with our readers!