What a blast from the past.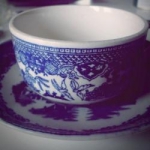 Rose Heichelbech
At the Hillsdale Shopping Mall in San Mateo, California, stores like Macy's, Farmer's Market, and Sears anchored this open-air shopping mall. The center was purpose-built in 1954 around the Sears store which had been constructed 6 years prior. While not an indoor shopping mall like we have today, the Hillsdale Mall offered 75 stores, 5,000 parking spaces, and numerous places to eat. It was the precursor to our present shopping malls, on 50 acres of land, offering what promoters referred to as the "most complete comparative shopping in the area" with stores at every price possible point.
Today this shopping center has been leveled to make way for a more modern two-story indoor shopping mall. But, back then it was a bustling center unlike what most Americans had on their own Main Street drag. Have a look in the video below at shopping footage from this now-gone shopping center in 1957.