This brave horse was also quite the little ham!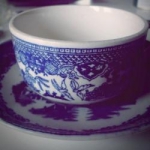 Rose Heichelbech
While we still sometimes use animals in military settings, for most of human history animals have been absolutely critical to any military operation. During World War I many horses lost their lives in battle, but it was seen as an unavoidable loss since they were the primary transportation method for goods. Even in more modern times horses have been used in areas where piloted vehicles would not be safe. Such is the case the incredible story of Sergeant Reckless.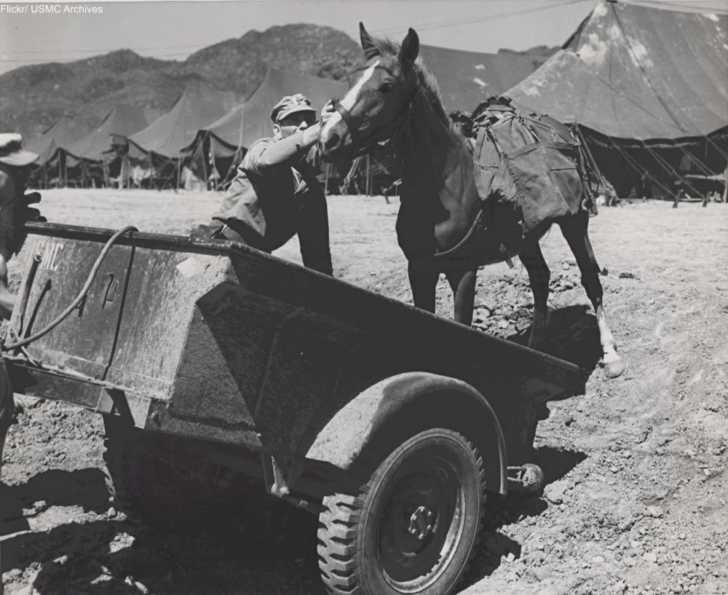 Sergeant Reckless was a jeju mare purchased when she was quite young at a former racetrack in Seoul in 1952 by the U.S. Marine Corps to be used as a pack horse for the U.S. Marine Fifth Regiment. Needed to carry the 24-pound recoilless rifle shells for the men, she got her nickname from their nickname for the weapon- the reckless rifle.
She served in the Korean War for 9 months, at one point making more than 50 ammunition supply trips amidst enemy fire by herself in one day. Incredibly she was able to memorize several different pack routes throughout her active service.
Reckless could also be frequently found carrying wounded men back to camp before heading out on another supply trip. For this reason she was considered not only an excellent pack horse, but a brave soldier.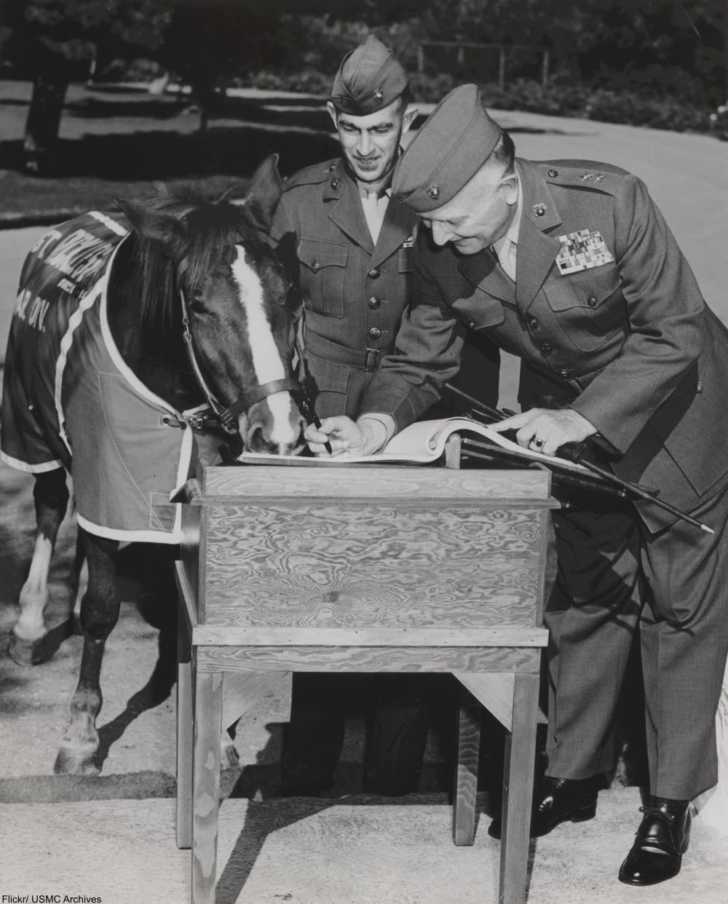 Her fearless nature made her well-equipped for military life in a war zone, but it also had another effect. Sergeant Reckless would eat almost anything offered to her (or found laying about) and had a particular fondness for Coke, Hershey bars, beer, and scrambled eggs! It's also rumored that she ate a heap of poker chips one night, too.
But her antics didn't stop there. She would also enter the soldiers' tents on cold nights and sleep there. Reckless would demand attention from her Marines any time she felt neglected, sometimes walking straight into a circle of chatting men in order to receive the social interactions she felt lacking.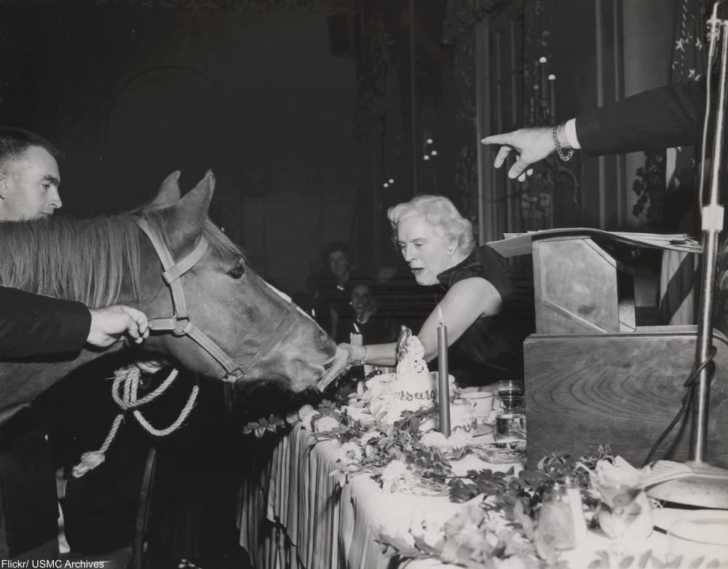 From the above photo original caption: "That evening Reckless was greeted by three hundred ladies and gentlemen of the Corps. While being introduced from the speakers' table a General's lady leaned over and gifted Reckless with a piece of cake. There were some who worried about the little sorrel riding in an elevator to the tenth floor banquet hall. Those who knew Reckless didn't worry. It is obvious she didn't."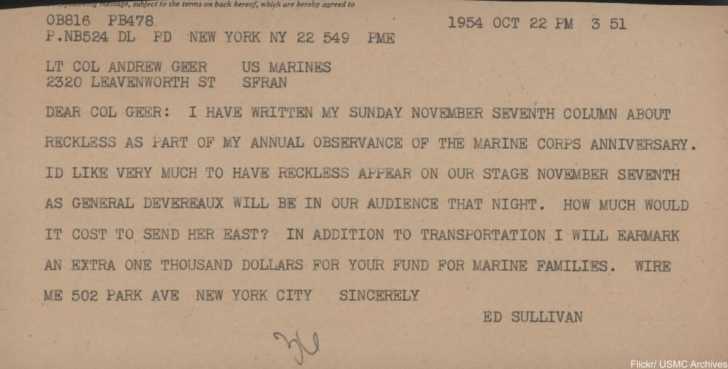 For her efforts she was awarded many honors including twopurple hearts and a good conduct medal. She was promoted to sergeant after the war was over and became somewhat of a celebrity in her own right upon her arrival to the U.S.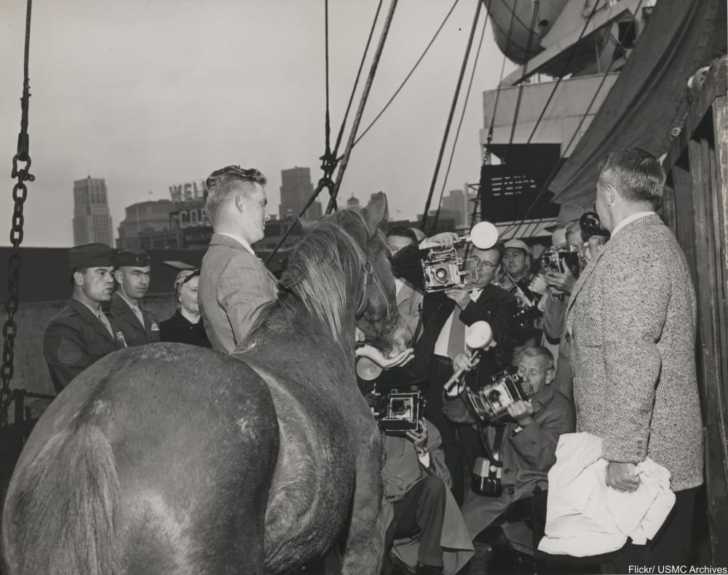 Reckless only lived to be 20, shorter than the normal horse life span, but it's no wonder considering she lived through a war and chowed down on whatever her Marines would give her!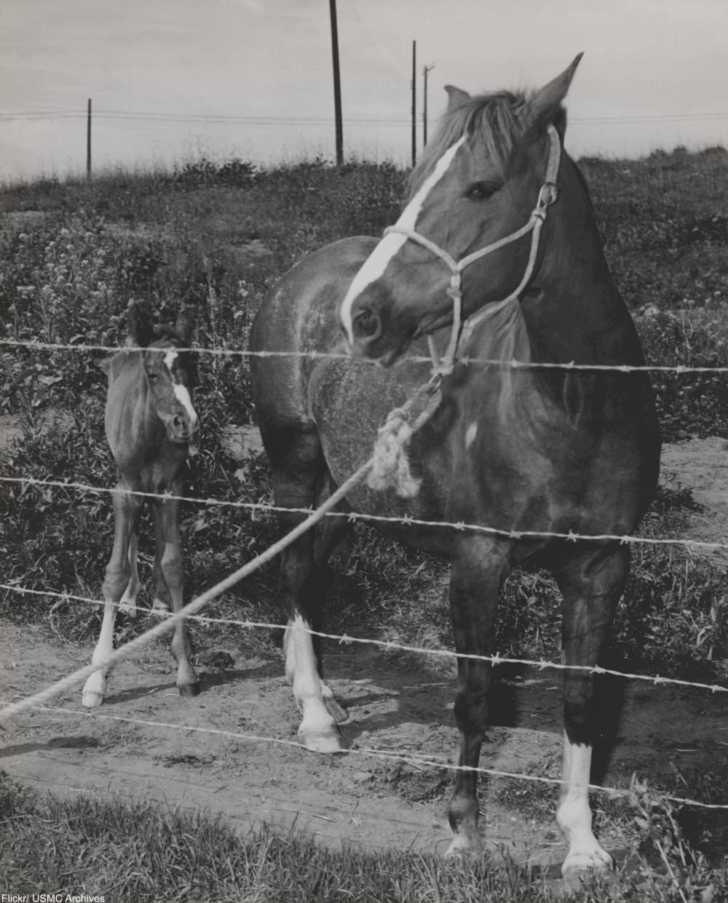 There's no doubt that Reckless was not only an efficient pack animal and brave soldier, but that she brought light into an otherwise dark situation. Reckless offered her Marines a comical antidote to the horrors of war, and, just like a jolly friend, would have a beer with anyone who was willing.