This woman drove the same car her whole life.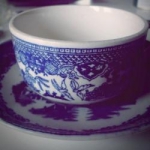 Rose Heichelbech
We often say "they just don't make 'em like they used" and we're not about to stop any time soon. Everything from appliances to clothing to cars seemed to last much longer decades ago. Take for instance the story of one woman who bought her car brand new in 1957 and was still driving it proudly 6 decades later- with the original engine no less!
Grace Breager bought her 1957 Chevy Bel Air after trading in her old Chevy and she has been driving it ever since. The muffler was covered under a lifetime warranty through Midas and the car's owner said that she thinks she's gone through about 23 of them over the years! The car came with all the bells and whistles since it was a demonstration model and the interior is still pristine.
The vehicle only has 121,000 miles on it which is only couple of years driving for some of us. Still, over 60 years parts can fail and many people find themselves just longing for something new. But, not Braeger. She saw no reason to get another car and said everywhere she went people loved her shiny Bel Air! In late 2017 she decided it might be time to finally sell the car after having such a very long (and good) run with one vehicle. Incidentally, it was the only car she ever owned! Have a look in the video below.