We weren't expecting that!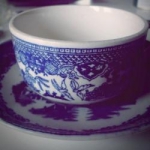 Rose Heichelbech
There were a lot of hits on the radio in 1957 and a few of them were making their way to television. Or, in the case of Perry Como, he was selling records because of his wildly popular television program, which at the time was called The Perry Como Show. "Round and Round" was one of the biggest hits of 1957, making the top ten several times and Como performed it on his variety show more than once.
But, on one occasion he makes a point of doing something a little different…this time with a twist! Como makes fun of the idea of lip syncing (a comedy move which was never done at the time) and does so in a way that just makes everyone laugh out loud. And, the "dancers" for this segment are mischievously circling on roller skates around him. Even the cue card boy and camera man get in on the skating action in this hilarious skit which reminds us just how simple and wholesome entertainment was back then. Have a look in the hilarious clip below.