Nothing brings back memories quite like this song!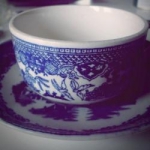 Rose Heichelbech
It's a song that instantly brings back so many happy memories- a song that brings to mind listening to records with the folks or watching an early variety show on television. It was hit all across the country in 1951 and it was widely covered by other female after Rosemary Clooney recorded her version. Written in 1939 and performed in the theater production of The Son, "Come On-a My House" didn't become a hit until Rosemary Clooney put her signature voice to work on this upbeat tune.
Written by Ross Bagdasarian (AKA David Seville of Chipmunks fame) and his cousin William Saroyan, the tune is supposedly styled after an Armenian folk song.
Such a fun song and so happy, it's no wonder why this recording has sold so many copies. Hear it again in this clip from the film The Stars Are Singing (1953).