Going through this grocery store is like a blast from the past.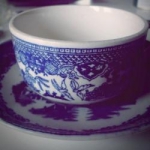 Rose Heichelbech
Once upon a time it was small town grocers and general stores which sold most of the grocery items in the U.S. In the 1930s, the concept of a supermarket was still a very novel idea. Operating under the assumption that bulk buying keeps the cost down, supermarkets during the Great Depression had moderate success and grocery chains like A & P even published their own recipes and pamphlets to show just how cheaply one could eat.
The emerging car culture of mid-century America and the rising success of major retailers meant that women were shifting their spending habits. While the idea of shopping exclusively at a supermarket for food was not yet a near-universal truth, many housewives were shopping once per week and only at larger retailers. Have a look at the "romance" of grocery stores back in the early '60s in the film below! And for a trip down memory lane check out some of the grocery items we'll never see again by clicking the "Next Page" button at the bottom of the page.