She wasn't fooling around!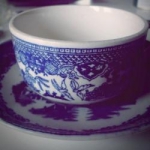 Rose Heichelbech
Cordell Jackson is one of the most under-appreciated rockers of her generation. She claims that she was playing rock and roll as far back as the 1930s and her jamming guitar, while "swinging" the old country and gospel songs.
Jackson had tried to get signed with Sun Records, famous early label of Elvis Presley, Johnny Cash, Carl Perkins, and Roy Orbison among many other talents. She recorded a demo with Sun, but was never signed. Bu, that did not stop her at all and she went on to form her own label (Moon Records) and became the first woman to ever to write, record, produce, and perform her own records. All but one of those records were singles.
Jackson said rock and roll is the happiest music in the whole world. Towards the end of her life she appeared in a beer commercial with rockabilly legend Brian Setzer in the 1990s as well appearing on Late Night with David Letterman. On MTV around 1990 you can hear her rocking out and listen to a short interview (given by Kurt Loder) with the one and only Rockin' Granny in the clip below. Phenomenal!