Watching this there's no mystery as to why he was considered such a heart throb!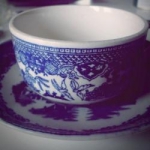 Rose Heichelbech
One of our favorite performers of the '50s had always been Ricky Nelson. He was there in the early days of television with The Adventures of Ozzie and Harriet and he appeared in may films. But, we remember him best from his music. Nelson began recording solo in 1957 which might never have happened if he hadn't been trying to impress a girl. Nelson fibbed and said that he had a recording contract, then scrambled to his dad to find out if they could make it happen!
This wonderful song "Lonesome Town" was written by Baker Knight, who incidentally also wrote many of Nelson's other hits. In 1958 and 1959 "Lonesome Town" appeared high on the charts and was played on the radio often. We remember this mellow song, not for its sadness, but for its calming effect. Have a listen once more to this wonderful song from another era in the video below. And, be sure to check out quite possibly our favorite of Nelson's performances right here.