Just imagine seeing one of these gorgeous dresses on the train.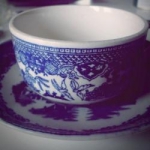 Rose Heichelbech
One woman in New York designs, sews, and wears her 18th century reproduction dresses, complete with silk bodices and trailing skirts, around the city like it's no big deal. Lauren Rossi studied costuming in college, but ended up with a corporate job. However, she felt empty without the creative outlet of creating her stunning gowns.
Rossi's dream was to attend Venetian Carnivale in historic ballgown dress, one which she made a reality several years ago. Since then she's been consumed with creating some of the most gorgeous gowns since the heyday of Versailles.
Rossi not only uses her commute time on the the subway to get in some hand sewing (the only historically accurate way to make an 18th century gown), but she says when she is traveling in a gown the subway is her best bet since it is hard to sit in confined spaces in hoop skirts and feather headdresses. Rossi says her obsession is with the fashion, not the lifestyle, and that she has no intention of attempting to live that life. Have a look in the video below.