It's one of the sweetest songs of the '60s.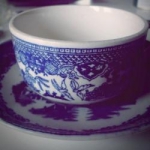 Rose Heichelbech
This 1961 hit has become a symbol of the era and is the feature song of the Scopitone clip below. Scopitones -and similar products like the competing Cinebox (AKA Colorama)- were like jukeboxes but with video and all it took was a coin to operate. They were popular in areas near military bases and especially overseas, and so could be quite racy depending on the title. But, some of the first music videos we have were produced for this medium, long before MTV was around.
Another famous Scopitone music video is Nancy Sinatra's "These Boots Are Made for Walking" which is one of the most well-known. In recent years there's even been some renewed interest in the old Scopitone machines and film reels as people who study outmoded technologies have discovered these gems. The story resembles that of the humble jukebox itself, yet somehow it seems unlikely that Scopitone machines will ever become as collectible as jukeboxes, partially because after the unsuccessful operation and promotion of these machines many were sent to the junkyard. Either way, have a look at the top ten hit of 1961 "Calendar Girl" from Neil Sedaka in the video below (in glorious color Scopitone of course).