So many fun memories!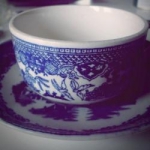 Rose Heichelbech
The Monkey first came on the scene around 1963 in Philadelphia, Pennsylvania, the same year that "Mickey's Monkey" was released by The Miracles on the Tamla record label (for Motown). The song would go all the way to #8 on the Billboard charts and the dance had a year or two of popularity. There is some speculation that because of the many beach movies of the day there was need for stationary dances that could be done in the sand (i.e. no traveling or spinning) and the Monkey was one of many that fit the bill.
The Monkey would hang on for another year or so after the song hit the charts, gradually disappearing as other fad dances replaced it. We love seeing the dancers in the video below, the girls with their crop tops and long hair – and the Miracles in snazzy matching outfits as per usual! Have a look in the clip below. And, if you love '60s dances then check out the Loco-motion and others right here!