You'll love this brassy, happy song all over again!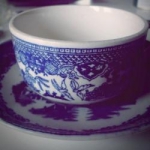 Rose Heichelbech
You may heard this song over the years. Anita O'day and Gene Krupa did a wonderful version. If you haven't seen the version from the film Hellzapoppin' though, you are in for a treat. Martha Raye is simply one of the most talented singers and comediennes of her era! Raye's version of "Watch the Birdie" is lively, funny, and full of exciting spins and jumps, though not always hers! This song was recorded in 1941, by which point the "birdie" needed to distract and relax photography subjects was already not needed because photography had become a comparatively quick and easy process. When this was films, it was already just a phrase to mean your picture will be taken shortly.
In the clip below, not only do we get to hear Raye's lovely voice, but we get to see her dance with the fabulous Dean Collins as well! Some of you may know Dean Collins as one of the promoters and teachers of swing music for many years, sometimes credited with bringing swing dance to the West Coast. Have a listen to this wonderful song below. And, be sure to check out another iconic '40s Martha Raye song right here.