We'd nearly forgotten about this dance!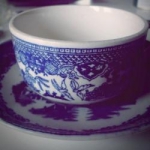 Rose Heichelbech
In the late '50s the Madison was developed in Columbus, Ohio, and quickly spread among teens at houseparties and gatherings. By 1960, the dance had caught the attention of TV producers and the first televised showing of the Madison was on The Buddy Deane Show, which was based in Maryland.
Unlike so many of the singles dances that were popping up at the time, the Madison has the steps called out by an announcer like in square dance. This ginchy line dance consists of a combination of moves like the Ed Sullivan, the Jackie Gleason, and the Rifleman.
Watch as Annette Funicello does the Madison in 1960 on the Coke Time with Eddie Fisher television program. We love it that the ladies are wearing pants and sneakers in this very fun clip! And if you love dances from this era you have to check out the Stroll right here!