Even at a young age her talents were obvious.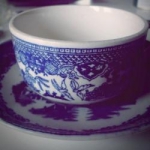 Rose Heichelbech
Consumed by countless readers over the centuries, Charlotte Brontë's Jane Eyre has been a source of many a movie and even more daydreams. The 3 Brontë sisters would each become well-loved for their books (Emily wrote the painful Wuthering Heights and Anne wrote The Tenant of Wildfell Hall). Each of the sisters also died young, including 2 other sisters (Elizabeth and Maria) and their brother, Branwell (a writer and painter). The under-40 deaths of all the Brontë children, and the selling of all the family mementos upon their father's death, has made artifacts from their lives precious. So, when a small and unknown handmade book by Charlotte came up for auction it was highly unusual.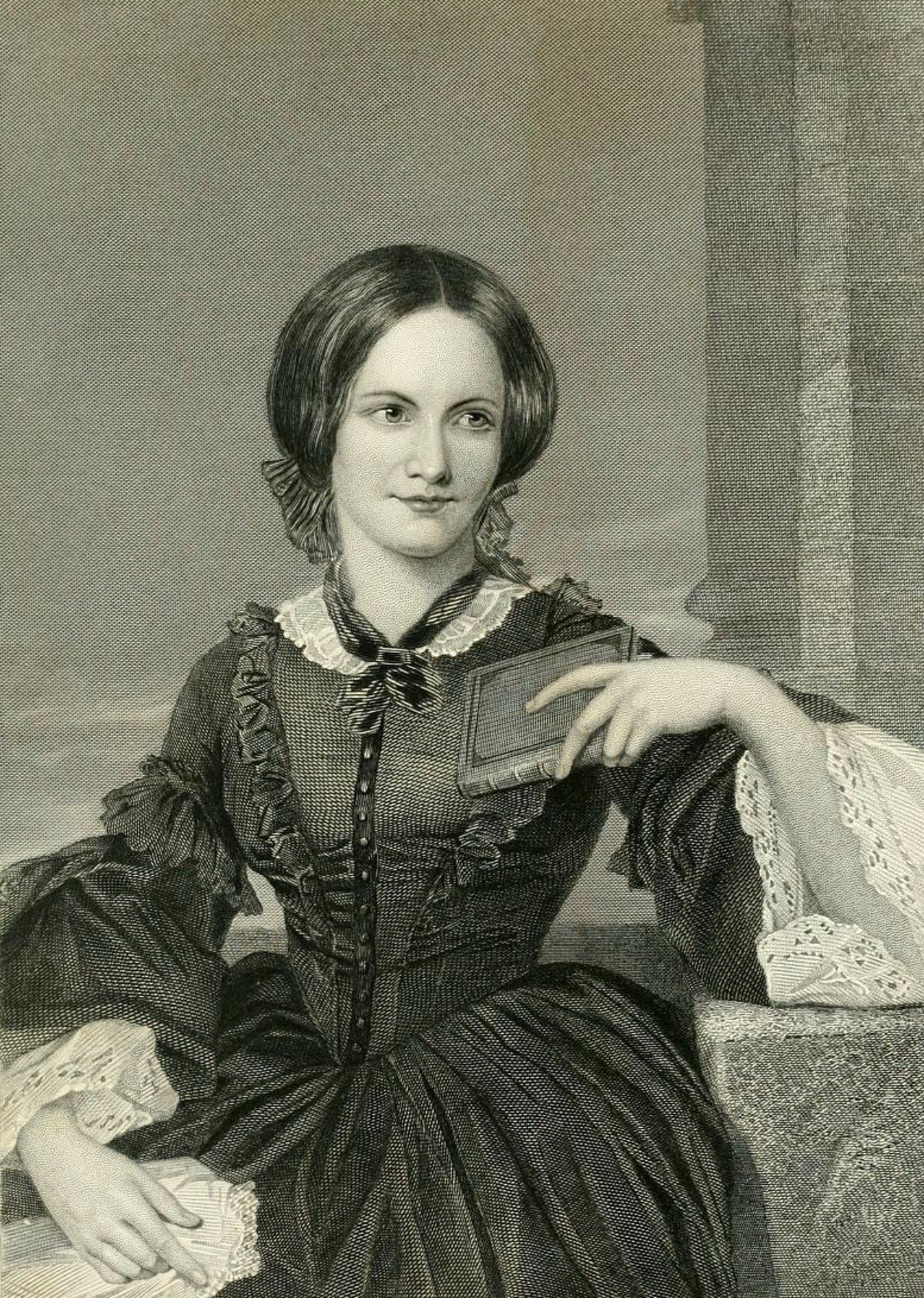 The last time the book had been sold was in New York in 1916 for $520, the equivalent of just over $14,000 in today's money. After this the book's location and preservation became a complete mystery. It was presumed lost and largely forgotten before coming to auction again from rare book dealer, James Cummins Bookseller, which worked with London auction house, Maggs Brothers Ltd., for the sale.
In addition to writing novels and short stories, Brontë also wrote poetry, which is the focus of the rediscovered book. It measures just 3.8″ x 2.5″ and contains 10 poems in her tiny handwriting. Among the poems inside are such titles as "Autumn, a song" and "Theres beauty in nature [sic]". These poems represent the last unpublished works by Brontë and were discovered hiding inside a schoolbook from the 1800s.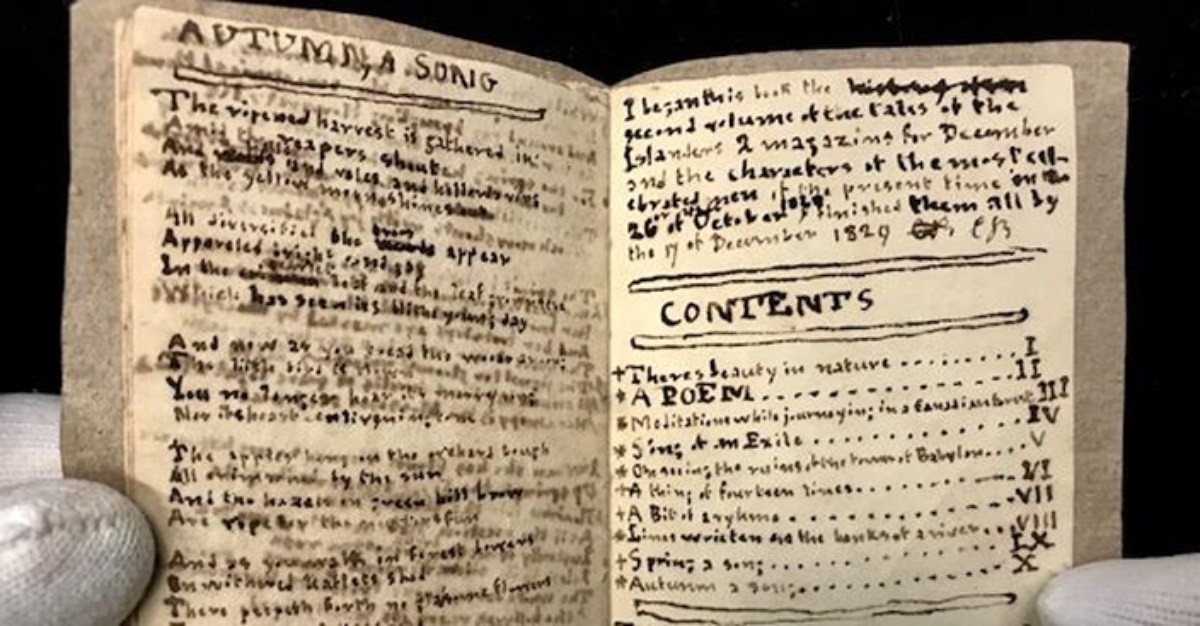 At the time the book was painstakingly made by hand and then bound by Brontë herself, she was only 13-years-old, and still decades away from writing Jane Eyre. The title page contains a bit of dry humor, as Brontë created the full title of "A Book of Ryhmes [sic] by Charlotte Brontë, Sold by Nobody, and Printed by Herself".
She goes on to state that the poems were written by "Marquis of Duro & Lord Charles Wellesley", then later reveals herself as the true author. Women often wrote under male pseudonyms during this era, including Jane Austen who came before her.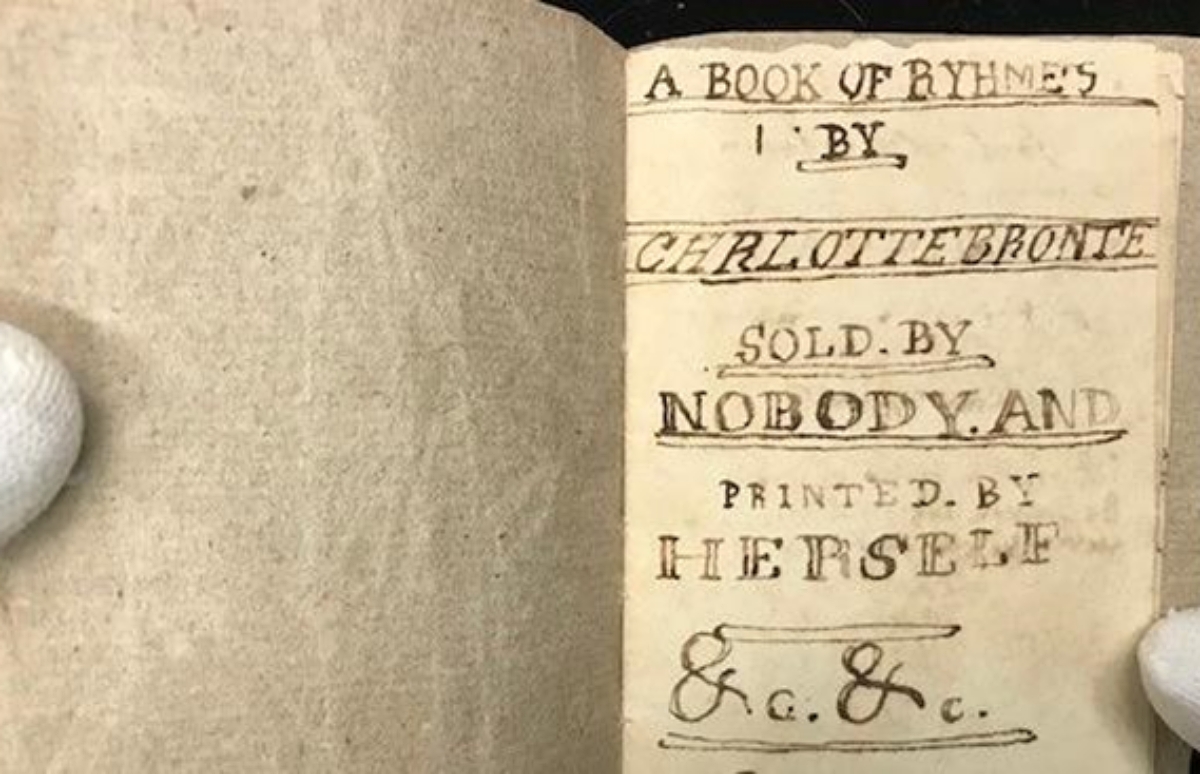 The 3 sisters later posed as 3 brothers when they debuted their novels and books of poetry as this was said to protect the publisher from poor sales. Back then books known to be written by women were not popular. Currer Bell was was Charlotte's pen name, Ellis Bell was Emily's, and Acton Bell was Anne's.
The book is but one fragment of the Brontë family's constant games of writing and telling stories, long before there was any money to be made in doing so.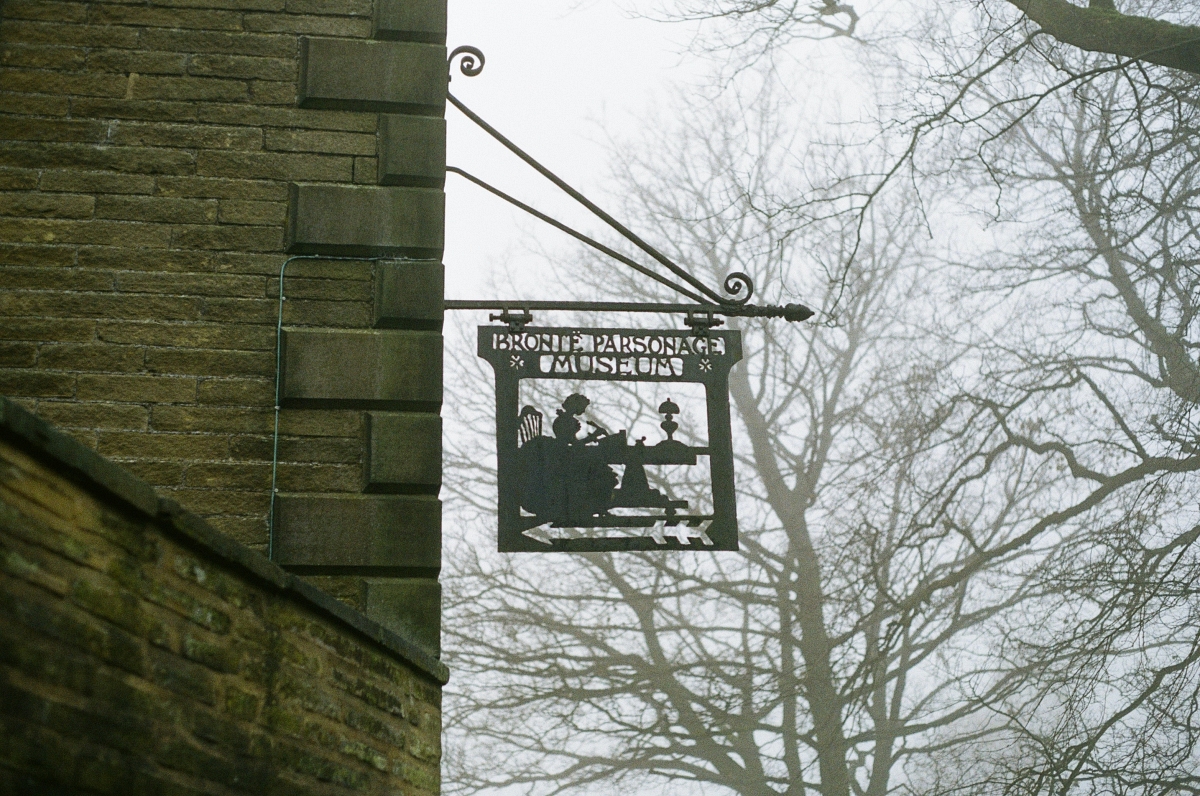 At first the buyer of the book from the April 21, 2022, auction was unknown. But, a later statement indicated that the book (which sold for $1.25M) was bought by the UK non-profit, Friends of the National Libraries, which announced that this elegant piece of history shall be donated to the Brontë Parsonage Museum.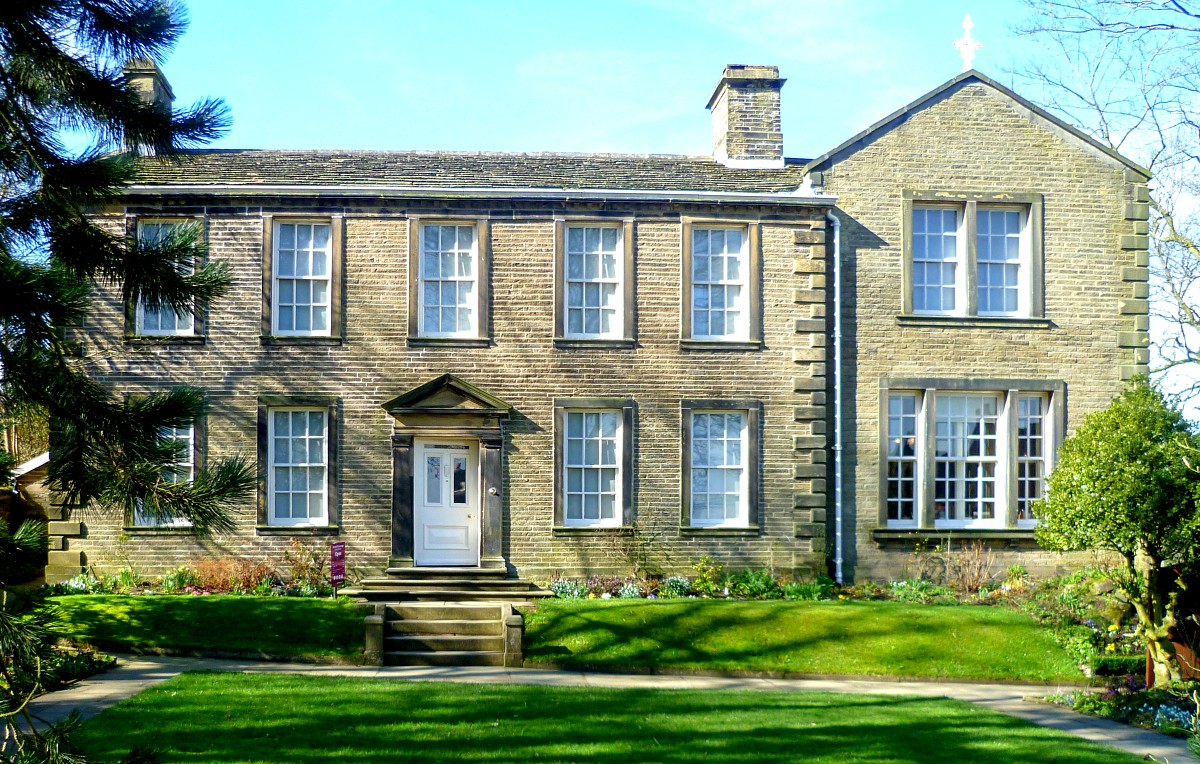 The parsonage was the home of the Brontë family beginning in 1820 when the girls' father, Patrick, moved them into the house after taking a curate position for St. Michael and All Angels' Church in Haworth. It is where all the Brontë sisters wrote their books and stories, so it's fitting that the tiny book should return to where it, too, was created.