What a fun trip down memory lane!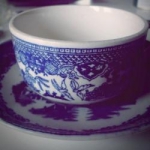 Rose Heichelbech
Anytime we get to see color footage from decades ago we are struck by seeing all the details in vivid color, skewed by the film of the day to be a little blue or a little yellow, but always interesting. This color footage of London in 1970 is no different. From the tourists to the double-decker buses to the vintage logo on the 7-Up delivery truck, there's so much to see in this lively footage shot by British Pathé.
Shot from different angles and then spliced together, this clip shows London mainly from the height and stature of a double decker bus. The views are just wonderful to see and the city is positively bustling. Have a look in the video below! And, be sure to check out some of the first footage to be recorded on commercial color film in this screen test from 1922 right here.