Hear this amazing song again in a live performance from 1964.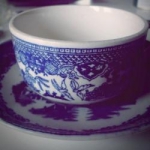 Rose Heichelbech
From the T.A.M.I. Show (AKA Teen Age Music International) in 1964 this hit special featured some of the best performers of the day, including The Beach Boys, Chuck Berry, and the Supremes. Also on this special was a young Lesley Gore singing one of her latest chart-toppers, "You Don't Own Me." In 1964, Gore was just 18 years old and already her songs were helping to define an entire generation.
Of her overnight success, Gore later recalled that she would wake up in the mornings before school to find throngs of fans camped out on the lawn of her family home. Gore's voice had such a sweet quality to it, yet very strong. She starts out here a little timid before launching into a tremendous performance full of heart and soul. Have a listen to this wonderful song below. And, you can check out Little Eva singing "The Loco-Motion" right here.