Kitchen's from Long Ago: February 19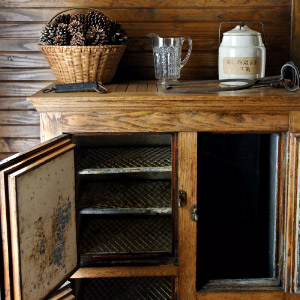 Dusty Old Thing
Finding antique kitchen items can bring great fascination. Sometimes we remember how our grandmothers cooked; other times the pieces are older and we wonder how they were used. They are all part of our cultural histories.
Tonight we're featuring some kitchen antiques or vintage pieces. All come from our readers. We hope you enjoy them and, maybe, they can bring back memories of long ago.
Rebecca's "fireless cooker" is, we think, the first one ever posted to Dusty Old Thing. It was a real joy to see it and do a bit of research on how they were used. Rebecca also wrote that there was a one inch thick layer of newspapers protecting the top and that her Dad had no memory of it being in the house. Very interesting!
Rebecca's looks to be like ones we've seen that date to around 1910. They really are fine pieces of period workmanship with the cabinet in oak and the metal in aluminum. Most also were on casters so they could be moved close to the main stove.
We've seen references to "fireless cookers" or "fireless stoves" or "hay boxes" back to the late 1880's-90's. There seemed to be many models, some homemade. The basic idea seemed to be to have an insulated box, or even a basket, where pots could be lowered after they had been partially cooked, or at least brought to a boil with a small amount of water, on a regular stove or a fire. The insulated top would then be closed or, if there was not a top, it could be covered with hay, newspapers or old quilts. Basically it was an early slow cooker. The idea probably comes from pioneers who buried pots of stews or burgoos for cooking over a period of long hours.
Researching this also made the linkage, for us, of our own family's time-honored method of cooking country ham. It's brought to a boil in a huge "lard stand" on top of the old stove in the basement kitchen and then the stand is moved to the floor where it is covered in old newspapers and old quilts for long hours. We've never found a technique for making a better ham!
Some fireless stoves were made to be mobile. Soups, stews or other foods could be started on the main stove, then moved to the fireless cooker box and loaded onto a wagon or early car where they would continue to cook.
There were many manufacturers of the cookers. The Mason Company in Detroit was one the most popular. Cookbooks also were printed with special recipes. Ads for the cookers emphasized the health benefits and how the pots were of sanitary aluminum. We always have to keep in mind how strong the fear of disease was in those days and the danger and heat from wood and kerosene stoves.
Jeff's vintage red bakelite-handled flatware looks to be a wonderful collection, maybe with a couple of the pieces coming from differing manufacturers. They look to be of very good stainless-steel. Bakelite-handled flatware can bring a wide range of prices at auction depending upon the maker and number of pieces in the set. Many people suggest that collectors not be afraid to mix-and-match pieces and, when using them, set an eclectic table or buffet. They mark a period, especially in the 1930's and 1940's, to bring a type of Art Deco streamlined feel into the kitchen and dining room.
Like most Bakelite, they're happy things!
And we love Shannon's wonderful Hoosier and her great collection of vintage Pyrex! It's all so lovely!