Just as lovely I remember it!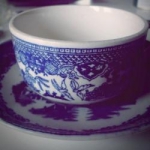 Rose Heichelbech
There is something about this song that just really makes you want to rush out and go to your loved ones. The tenderness of Judy Garland's voice and the sentiment of the lyrics combine to create an incredible feeling every time this song is played. It was written in 1944 for the film Meet Me in St. Louisfor Judy Garland. Echoing the feeling of loss during World War II, the message of hope that we will all see our loved ones again rang true for many troops and their families. It has been said that when Judy Garland performed this song at the Hollywood Canteen that the soldiers wept openly.
"Have Yourself a Merry Little Christmas" is not only one of the most beloved Christmas songs, but one of the best written in the 20th century. It remains a wonderful tribute to those who cannot be with us at this special time of year and there is truly no one more suited to sing it than the master of song herself, Judy Garland. Listen to this heart-warming song in the clip below.