You don't see something this special everyday.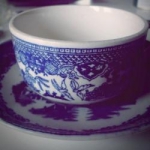 Rose Heichelbech
The year was 1959 and a young Johnny Cash was filming a performance for Vel's Ford Town Hall Party to be aired on NBC. Johnny Cash was only 27-years-old at the time and was inspired by the even-younger and now very famous Elvis Presley. Cash's impersonation may be a bit over the top, but Cash hits all the high points in this hilarious impersonation of the King. From the hip swivel to the unconventional hair to the rebellious streak, Cash really does a great job.
The two were good friends and had performed together a few years before in what was later called the
Million Dollar Quartet. It's no wonder that Cash did this hilarious skit based on someone he knew and liked. Although, as he says in the clip, it's kind of an impression of an Elvis impersonator (although that term didn't quite exist yet). Have a look at the late music legend in this wonderfully funny video below.