Check out the master at work showing us how dance changed from 1920-1950.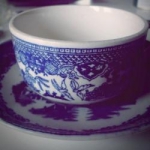 Rose Heichelbech
Jerry Lewis has a way of making just about anything fun. In this clip from The Colgate Comedy Hour, Lewis gives us a little visual history lesson. Although the show had many hosts throughout the years it was on television, it was the best when Dean Martin and Jerry Lewis hosted!
Here, Lewis shows us, with the help of his three lovely dance partners, how dance has changed over the past thirty years. From the slow and mellow to the quick swinging jitterbug moves, Lewis gives us the deal on how dancing has changed in America. But, don't be fooled. Jerry Lewis always has a punchline, even in a dance routine. Check out this funny commentary on the American teen by one of the best comedians ever to star on television. And, you can check out another stellar dance performance by Jerry Lewis right here.