They just don't make movies like this one anymore.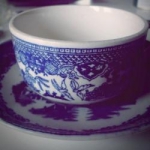 Rose Heichelbech
From a time when films featured incredible talent and fun dance scenes comes this wonderful film clip featuring Jean Veloz. Veloz has been known in dance circles for years. But, she truly shines in the 1943 film Swing Dance Fever. Veloz began dancing as a teenager and became known after she entered a dancing contest with her brother and won. As a queen of swing dance, Veloz appeared in several Hollywood films during the 1940s, and made television appearances and gave lessons to stars on how to dance. Watch as she manages two leads at the same time (Don Gallager and Lennie Smith) all while keeping perfectly cool and calm in this fantastic scene from the film. The wonderful song is sung by a star with a beautiful singing voice, Marilyn Maxwell.
And, Veloz never slowed down one bit! She's still dancing these days and you can watch a fun clip of that right here.