Late 1800s and early 1900s houses rarely had built-in cabinetry, and as family size began to grow, the kitchen was increasingly becoming one of the most important rooms in the house.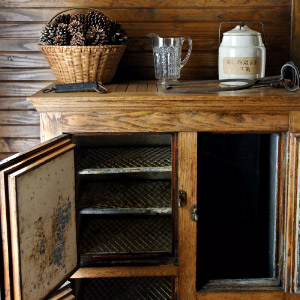 Dusty Old Thing
Late 1800s and early 1900s houses rarely had built-in cabinetry, and as family size began to grow, the kitchen was increasingly becoming one of the most important rooms in the house. A movement started in the late 1800's to set forth a new standard of an "Efficiency Kitchen" that would make it easier to manage the additional kitchen "stuff".
In addition, as women became more involved in civic and local life, they sought to spend less time in the kitchen and to keep things as clean and organized as possible. It's no surprise that a new industry built up around this!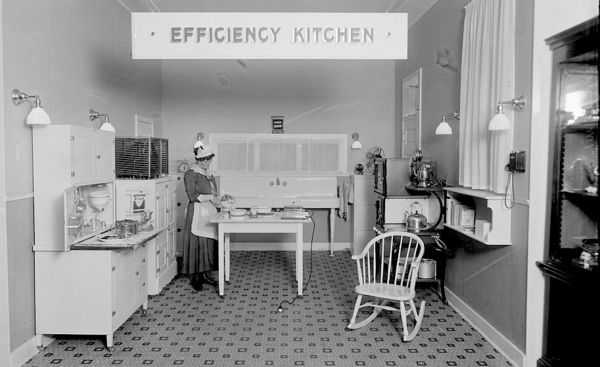 This photo from 1917 shows a display of an Efficiency Kitchen, with a new type of cabinet on the left.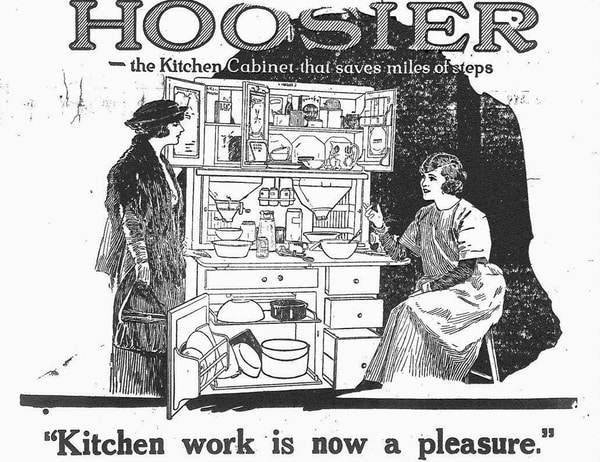 The Hoosier Manufacturing Company was incorporated in 1899 in New Castle, Indiana. Their President, John M. Maring, anticipated this move to "Efficiency" in the household, and he sought to build a new type of cabinet. Their idea was to take the traditional baker's cabinet and re-arrange its components (and add some new ones) to make a kind of one-stop-shop for everything kitchen-related.
Their new invention was a well-organized, compact cabinet that provided a place for everything ranging from salt shakers to mixing bowls and also a handful of key tools like a built-in flour sifter! The idea caught on and the brand was sold as making kitchen work "a pleasure" and also the cabinet "that saves a thousand steps!"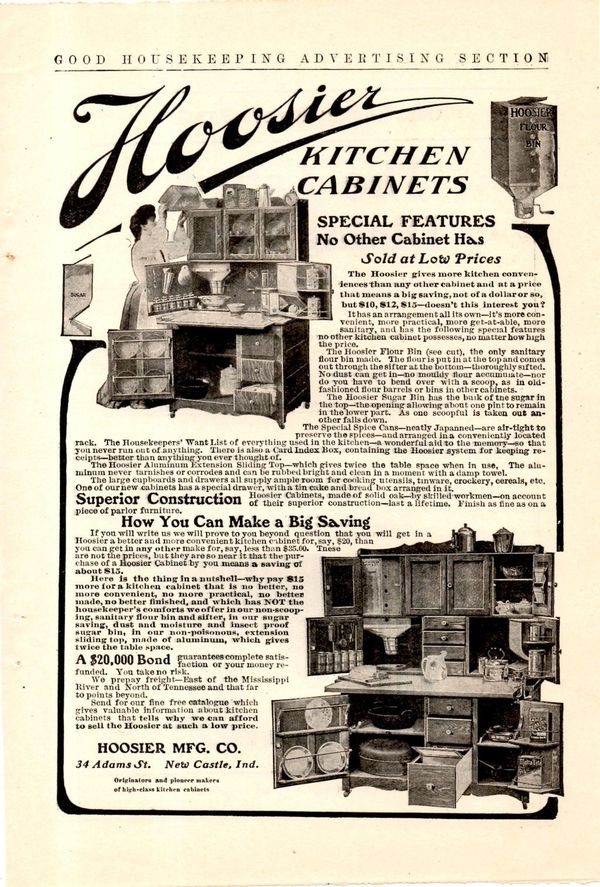 This 1906 ad from Good Housekeeping shows an early version of the cabinet before the marketing caught on. The text reads: "It has an arrangement all its own – it's more convenient, more practical, more get-at-able, more sanitary, and has special features no other cabinet possesses, no matter how high the cost."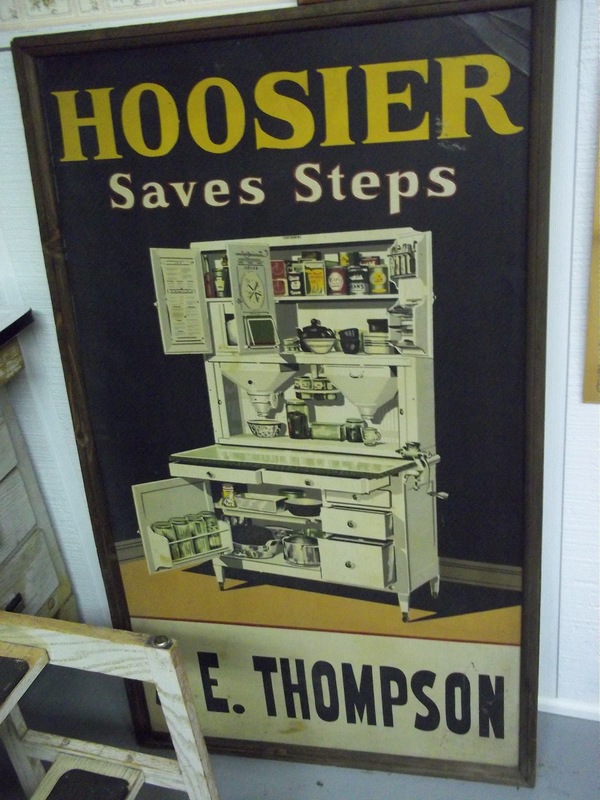 This photo from American Homestead shows a later ad for the Hoosier Cabinet. You can see that the "Saves Steps" message definitely resonated with people!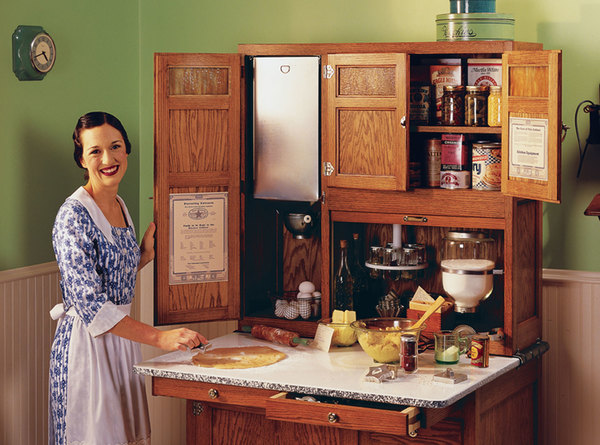 As print magazines became more colorful and rich, so did the ads for the Hoosiers! This photo shows a Hoosier being put to good use. Take note of the papers that were inside the cabinets – most Hoosiers came with handy measuring guides.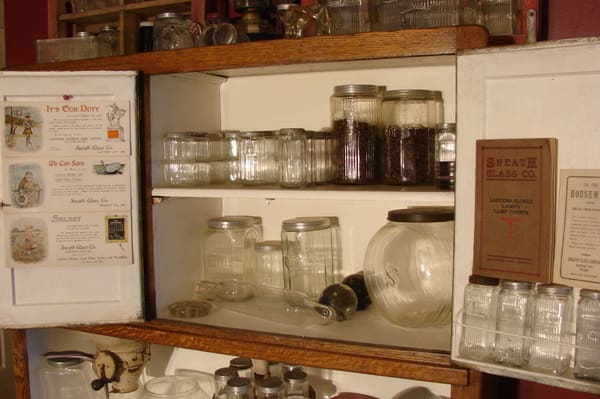 Entire industries sprung up to accessorize the Hoosier Cabinets. One example is from the Sneath Glass Company that made custom glassware for the Hoosiers, displayed above. Original sets included coffee and tea canisters, a salt box, and four to eight spice jars.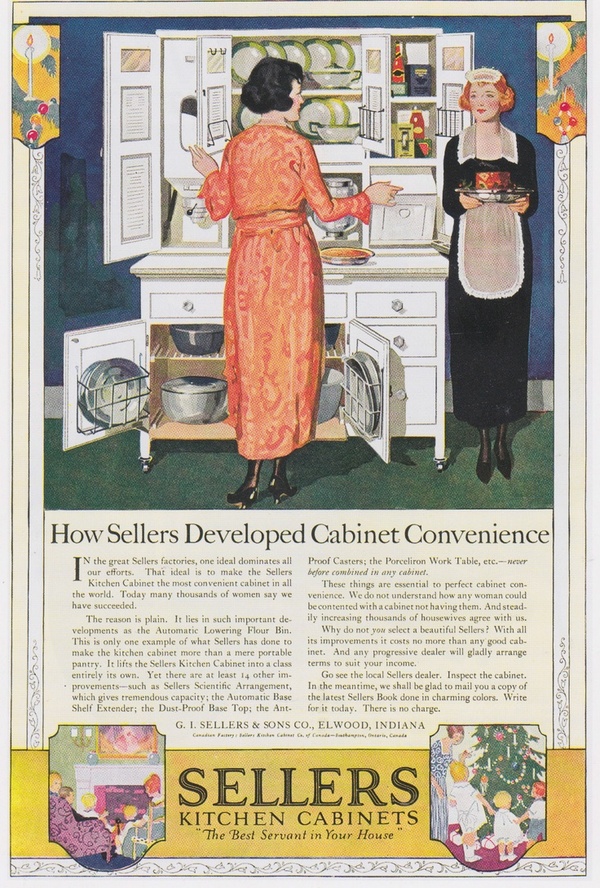 As the Hoosier Cabinets caught on, other companies jumped in to capitalize on the movement, namely the Sellers & Sons Company of Elwood, Indiana. Their key contribution above what Hoosier provided was an "Automatic Lowering Flour Bin", but they also claimed "at least 14 other improvements" such as a dust-proof base top and ant-proof canisters!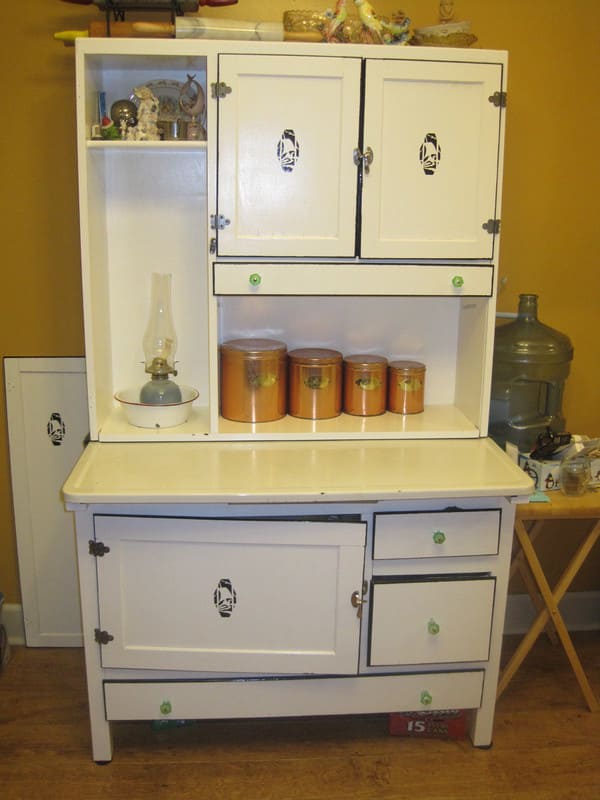 Sadly the Hoosier Cabinets lost popularity in the late 1920s after the Depression hit, but because they were so well-made, many of them still exist today. The photo above shows a late-version Hoosier that has been refurbished. Late models were often white and occasionally had some colorful jade or red trim.
In the past couple of years, we've noticed a handful of people trying to bring back the Hoosier Cabinets by sharing how they have refurbished old family pieces or yard sale finds. Here are two of our favorites: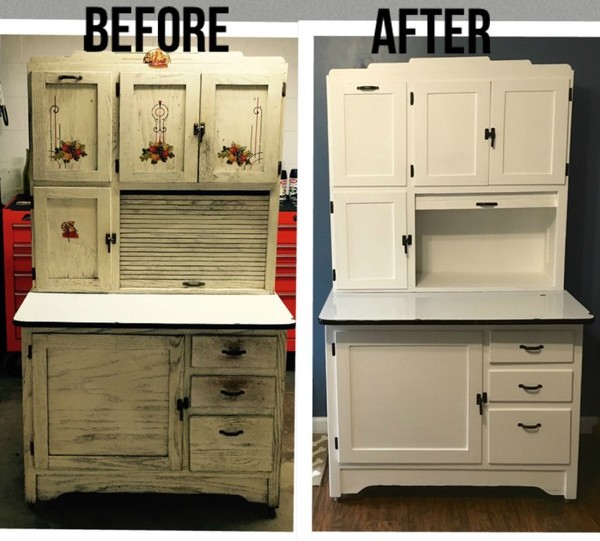 This project from A Simply Happy Home shows what a husband/wife team was able to accomplish with their grandmother's old cabinet. It came out great!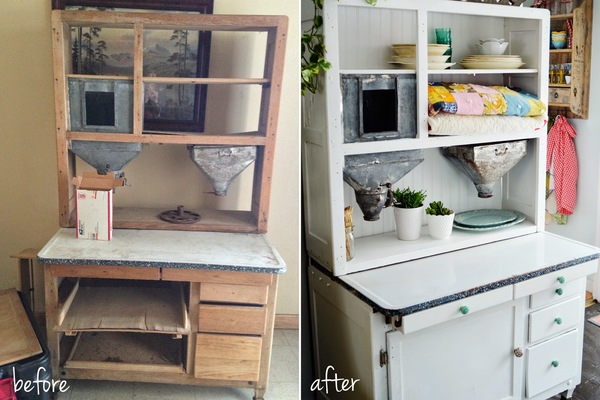 Here's another great Hoosier project, this one from Natalie Creates. She took so much care in bringing this early 1900s model back to life. It makes us want to start a project ourselves. Let's all bring the Hoosier Cabinet back!