This character's story is a bit unusual.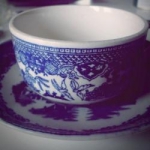 Rose Heichelbech
Back in the 1940s and 1950s pin-up girls were not only the ideal women obsessed over by lonely servicemen, they were seen as appropriate for any kind of men's realm. Calendars or postcards would be hung in garages, workshops, and offices and advertisers banked on this when creating products with pin-up girls on them. But, there was one stand-out pin-up character from the era that still gets quite a lot of love today: Hilda, the plus sized pin-up girl.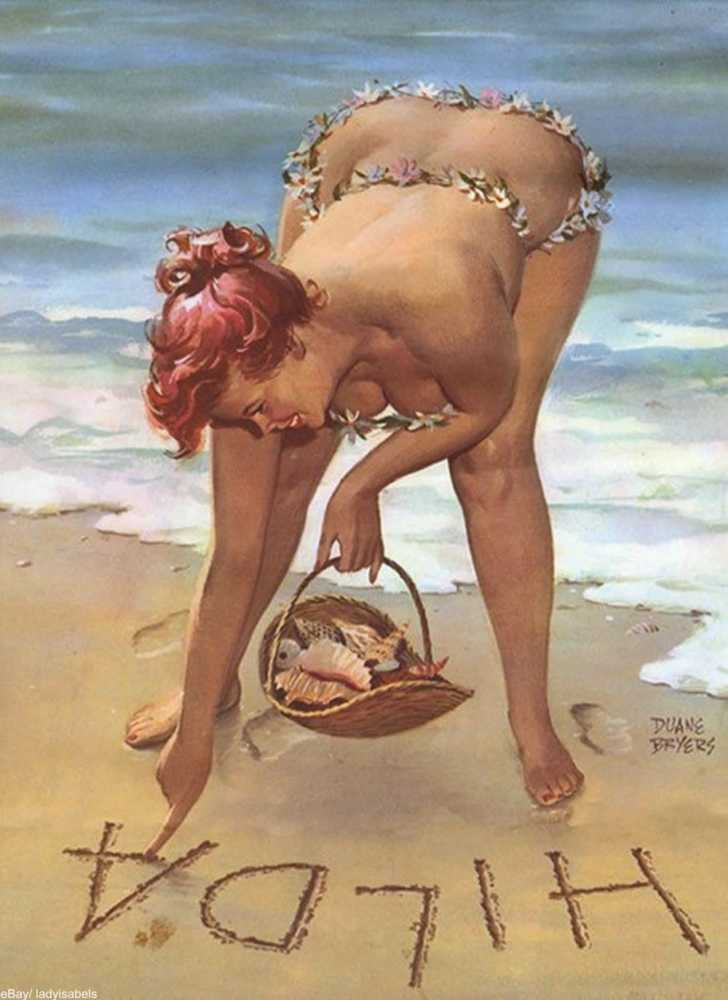 Pin-up girls could be racy or wholesome, phots or drawings, but in any case, they represented some of the most idealized images of women produced in the first half of the 20th century. Betty Grable, Marilyn Monroe, and the fictional women from the mind of Alberto Vargas all captured the imagination of men at the time.
Hilda was a full-figured pin-up girl created by artist Duane Bryers in the 1950s. Hilda's image was used in calendars and other promo materials, a tradition that was carried on from the pin-up girls of World War II. The new calendar girls were often drawn from life, but Bryers only occasionally used a model for Hilda. The plump and red-haired Hilda was not expected to be a success, but customers clamored for her – cellulite and all.
Bryers' other popular subjects were wizened cowboys on the ranch, for which promotional calendars were also made. But, Hilda captured another, lighter side to life which the public enjoyed.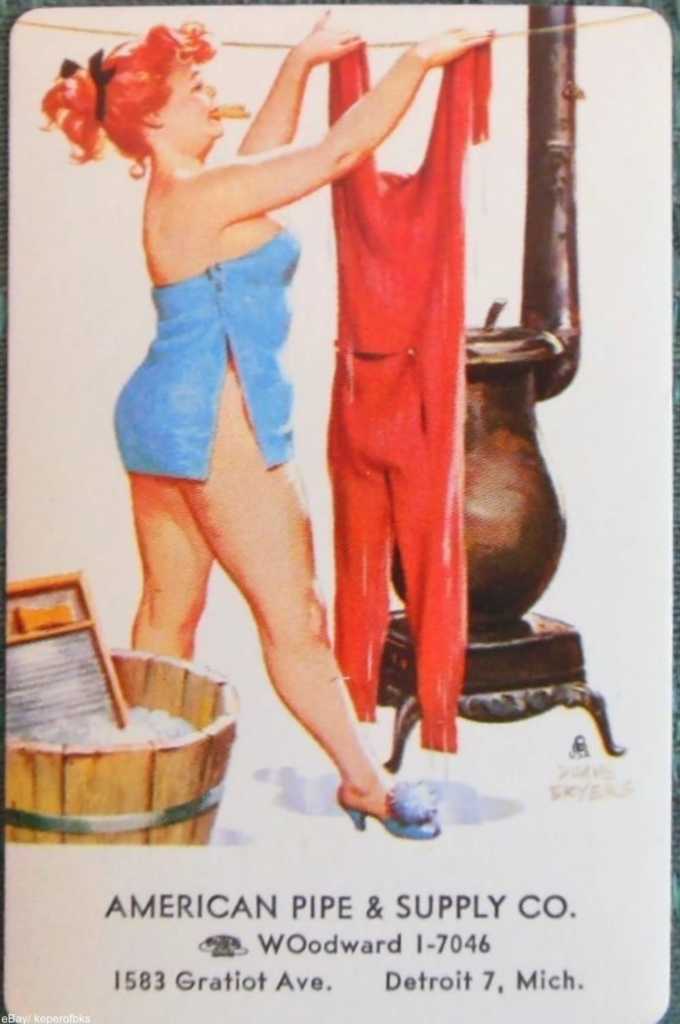 Hilda is often depicted wearing makeshift clothing and doing down-home things like fishing, using an old wood stove, or going to the swimming hole. She's even seen wearing a flour sack bikini which begs the question of whether her character was supposed to be a poor girl from the country or if she just couldn't find clothes to fit (which is another theme of Bryer's Hilda: clothes that barely cover, like many other pin-up artists). At the time "husky" clothing would often have been homemade and not as readily available in shops.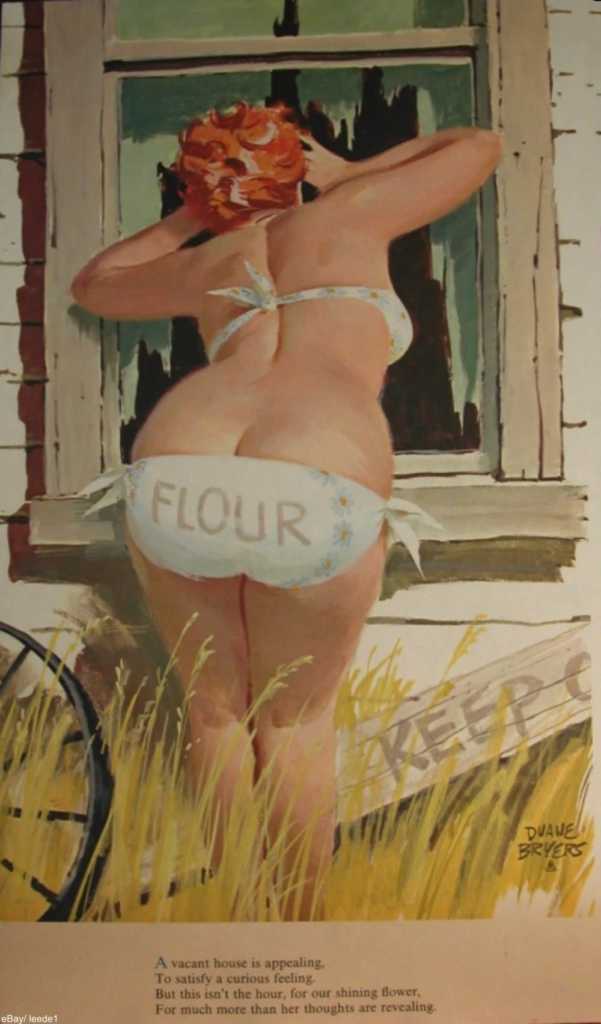 Hilda's image was first introduced in 1955 when Bryers pitched the character to the promotional materials company, Brown and & Bigelow, who were hesitant to deviate from hourglass Monroe-type pin-ups. But, the paintings were so successful that they were in print for a whopping 36 years according to Bryers. Hilda's image didn't just grace calendars, but also playing cards, tumblers, ashtrays, and more. Hilda fulfilled a niche market at the time for men who enjoyed images of hearty women. But, Hilda wasn't fully appreciated until after Bryers death in 2012 and today there's even a Facebook fan page devoted to her.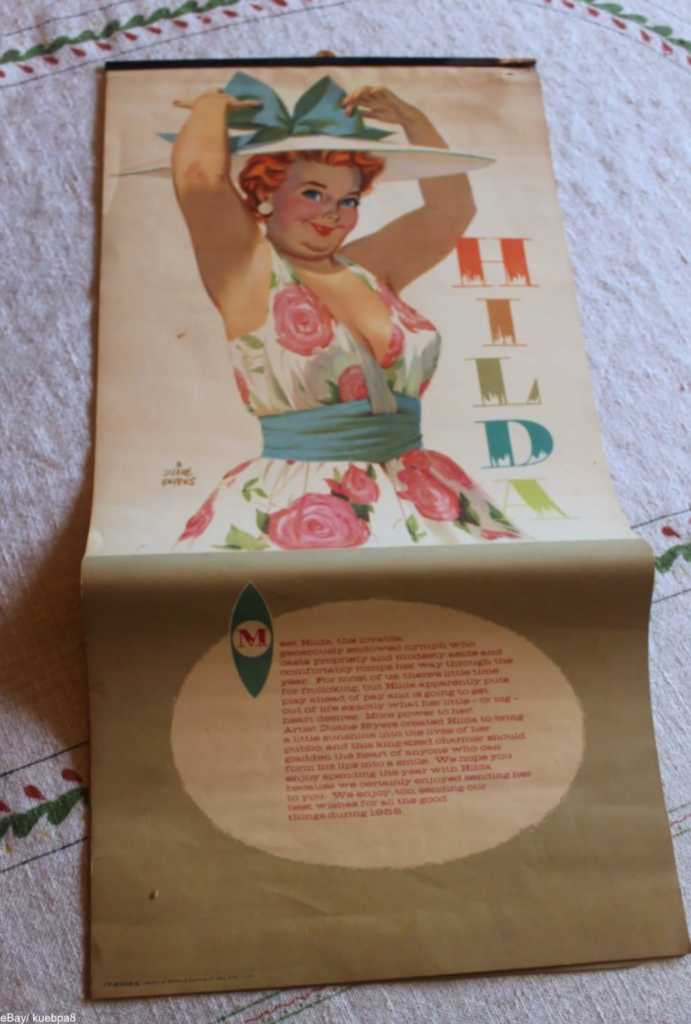 Many folks today love the idea that a plus-sized image of beauty could have been admirable in an era of waist cinchers, diet pills, and fit and flare New Look dresses, but Bryers and others have speculated that a rounder image of femininity will never go out of style. Over the years Hilda has been called pleasingly plump, chubby, vivacious and buxom, among other things. But, it's not just her shape and size that is unusual for a pin-up girl: Hilda also has a huge personality.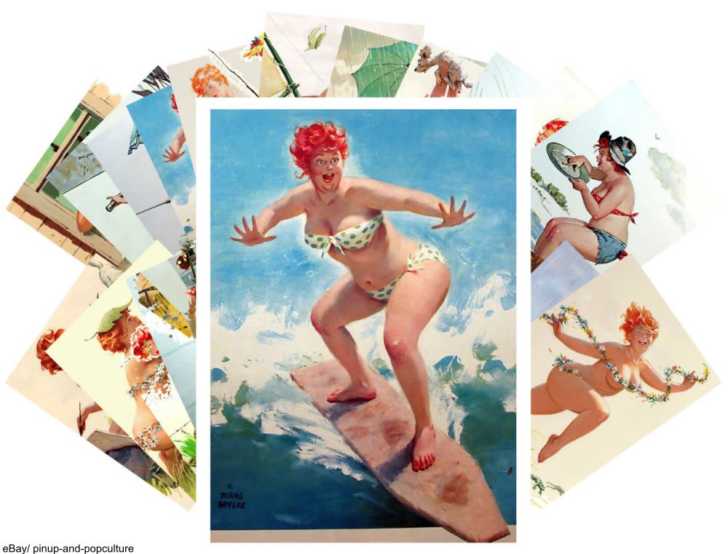 Hilda plays guitar, knows how to surf, paints, does DIY projects, reads, rides a bike, has back aches and bad days, and generally amuses herself all the live long day. While many applaud her stature, it's the narrative of her character that really stands out. She's not just a pin-up, she's the kind of girl a fella might just want to marry. Hilda may get into some silly situations, but she seems neither unintelligent nor sly. And, however you see her, there's no doubt that she remains a singular figure in the world of pin-up art to this very day.