Fashion-forward granddaughter brings her grandmother into the 21st century with incredible results!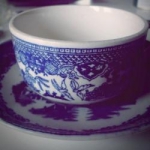 Rose Heichelbech
You won't believe what this sweet grandma looks like after her makeup makeover! This Croatian grandmother and granddaughter have taken the internet by storm. Makeup artist Tea Flego transforms her grandmother, Livia Mulac, every time she does her makeup. Employing tape, highlight, and a whole lotta contouring, this grandmother looks decades younger after every session. She has said that her grandmother has been her model for years and the two quite enjoy the process together.
It's definitely a more modern style, but she looks so pretty. While it might not be an everyday look, we bet this was so much fun! And, Flego also sometimes does the makeup for the other ladies at her grandmother's nursing home, too! Nicknamed Glam-Ma, we love her look in this sweet video below.