She's not well known, but she should be!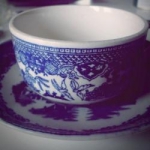 Rose Heichelbech
You might have already known how important jazz was to rock and roll, but how many history books are filled with the stories of early gospel singers? Even Elvis himself was heavily influenced by gospel, as those were some of his earliest recordings. His biggest early influence? Sister Rosetta Tharpe, now known to many as the godmother of rock and roll. Elvis even hired the backing vocal group that Tharpe had once sung with: the Jordanaires!
Tharpe began singing and playing guitar in the church with her mother at the tender age of just 6-years-old and she would go on to only be one of the first gospel stars, but to also be inducted into the Rock and Roll Hallof Fame under the category of "Influences" in December of 2017.
Even before the guitar was electrified, she literally rocked on acoustic (see the 1938 recording of her "Rock Me" for evidence of her incredible style). Her performance below from the 1960 show, TV Gospel Time, really demonstrates just how well she knew her way around a Gibson Les Paul guitar, and her solos "shredded" well before the rockers who would follow her. Have a listen below to the woman who practically gave birth to rock and roll. And, click "Next Page" after the video for a look the odd intersection of The Monkees and Jimi Hendrix!