This is one of the classiest fashion shows we've seen in a while.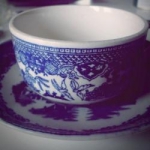 Rose Heichelbech
The average fashion show today is often filled with impractical clothes designed to impress and sometimes even shock. But, back in the 1950s the fashion show was an elegant affair filled with wearable designs that most women would have been proud to own. From a 1959 British Pathé newsreel comes one such fashion show that was inspired by the film Gigi.
The film is often considered to be one of the last great MGM musicals of Old Hollywood and featured costume design by Cecil Beaton (for which the film won an Oscar).
In light of what currently gets passed off as fashion, these classic outfits are perhaps even more stunning today than when they were released. And after the beautiful wedding gown is shown, the announcer humorously proclaims that "there's a husband, too, but he's incidental." Have a look at some truly chic 1950s clothing in the video below.