They are really phenomenal together.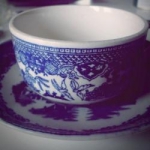 Rose Heichelbech
Everyone knows that Gene Kelly is one of the best dancers of all time. But, pair him with Judy Garland and you get a one-two punch of talent. This scene from the 1950 film Summer Stock really sums up the changing styles in dance during the period, as traditional dances were being replaced by swing and jazz moves, and couples were less inclined to do line or contra dancing. What starts out as the Portland Fancy turns into a dance-off in modern style. Gene Kelly is stellar in this fast-paced scene. Judy Garland, though not always thought of first as a dancer, really dances beautifully in this number.
Notoriously, this was Judy Garland's final film with Metro-Goldwyn-Mayer, given as a last chance effort to help stabilize her career. Cast and crew both were willing to help her through what was a hard six months of filming.
Have a look at this classic dance scene below. You can see Judy Garland in another brilliant dance number from the film right here.