In an amazing turn of events, this long lost, er stolen, letter written by Charles Darwin is returned to its rightful home.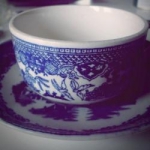 Rose Heichelbech
It's always a joyous occasion when a treasured piece of history makes its way to the safety of a museum. This letter, written by Charles Darwin in 1875, is an historic item in need of conservation. And, finally it can be taken care of again. The letter was stolen from the Smithsonian Institution Archives in 1970s…
twice. An intern is suspected of stealing the letter both times, once replacing the letter as to avoid criminal charges before taking the letter a second time. The letter remained in private possession until a tip from a concerned citizen led the Federal Bureau of Investigation's Art Crime Unit to look into the matter. The FBI recovered the letter and returned it to the Smithsonian Archives in May of 2016. The letter from Darwin to geologist, Dr. Ferdinand Vandeveer Hayden, was in surprisingly good condition. Have a look at this fascinating true crime story with a happy ending.