This wacky scene was a classic television moment!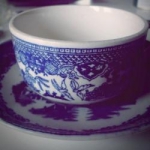 Rose Heichelbech
The Ernie Kovacs Showaired was one of those unique TV shows that affected everyone who watched it. The show was so popular that it would have run longer would have run longer had it not been for Kovacs' untimely death by car accident. The show received an Emmy award for outstanding camera work in 1962, just after his death. The camera tricks, visual illusions of scale and film gags used in the show came to represent Kovacs' personality: innovative, witty, and undeniably funny.
In this clip from the show the kitchen becomes a place of great wonderment, dance and music as all the kitchen tools and ingredients come to life. In the years that followed Kovacs' death, many terrific television programs used skits inspired by this unusual and talented man, such a this kitchen symphony. Have a look below at this wonderful bit. And, to see another comedic genius at work, check out a clip from The Jack Benny Program right here.