To see these two in action again is just so lovely.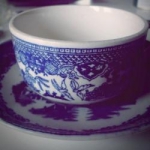 Rose Heichelbech
The young Debbie Reynolds wowed us all in Singin' in the Rain(1952), but do you remember her stunning performance in I Love Melvin released just a year later? She's breath taking and lively and she gets some help in this wonderful dance scene from Donald O'Connor, who as we all know, was one of the kings of dance in the old movies.
From the crinolines to the old record player to the his spectator shoes, this scene just reminds us of the Good Old Days. Their song and dance scene is very energetic, with quite a few moves from Reynolds that are unexpected. This is how the movies used to be and we miss that! Well, we can still watch these scenes and remember when this was entertainment. And to watch that incredible song and dance routine with Debbie Reynolds from Singin' in the Rain just click here.